When it comes to a representative local dish of Nara, there is perhaps nothing more fitting than " kakinoha-zushi," which is sushi wrapped in persimmon leaves. This was originally a summer festival treat born in the mountainous Yoshino region during the mid-Edo period. The sushi is made by shaving salted mackerel into thin slices, and placing each slice on a chunk of white rice. Each piece is then wrapped in a locally harvested persimmon tree leaf. The strong salty flavor of the mackerel takes about three days to saturate the rice, lactic acid fermentation occurs, and it takes about a week to ten days before it is ready to eat.
The renowned establishment of Hiraso offers hands-on workshops for making Kakinoha-zushi. This workshop offers more than just the opportunity to eat; we can also learn there about the origins and history behind the popularity of this dish among the people of Nara.
Recently, Hiraso undertook a new venture by renovating and reopening their Nara City branch, where they offer sushi made with seasonal ingredients and tempura that is fried right in front of you. You can also enjoy locally grown vegetables and sake.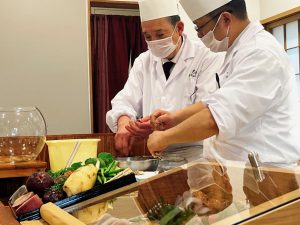 【Hiraso Nara Branch New Building】
Open :
Lunch>> 11:30~15:00(L/O)16:00(CLOSE)
Dinner>> 17:30~20:00(L/O)21:00(CLOSE)
Address : 30-1 Imaikadocho, Nara
Access: 10 minutes walk from Kintetsu Nara Station.
HP: https://hiraso.jp/