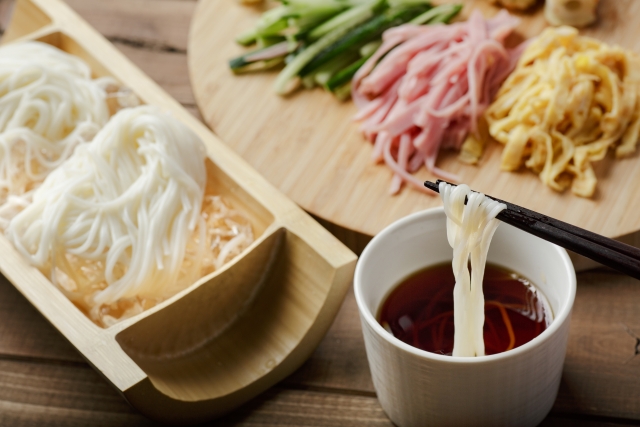 "Somen" is a type of Japanese noodle that is typically served cold. It's a popular dish on Japanese tables, especially during hot summers. It is often served with toppings like cucumbers and thinly sliced egg, and then dipped into a sauce called "mentsuyu" before eating.
The main ingredient of somen is wheat flour, and it is available year-round in supermarkets.
In recent times, there has been a trend of creatively adapting somen in various ways. Cooking websites that showcase Japanese recipes feature a variety of innovative adaptations such as an Italian pasta-style, Korean cold noodle-style, Vietnamese pho-style, and more.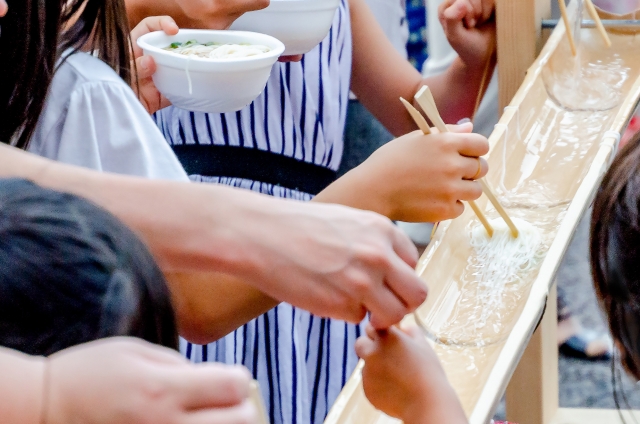 As a unique summer eating tradition, there is a style of eating somen called "nagashi somen." In this style, somen noodles and water are flowed down a bamboo flume. People, both young and old, compete to catch and eat the flowing noodles, making it a fun and lively summer activity.
Miwa Area Information
【Restaurant】
Miwa somen nagashi 三輪そうめん流し
A Miwa Somen restaurant that uses table-top machines to recreate Nagashi-somen.
Open :10:30AM~4:00PM
Address :460-24 Miwa, Sakurai city, Nara
Access: 2-minute walk from JR Miwa Station
【Spot】
Omiwa-jinja shrine 大神神社
Open all hours
Address: 1422 Miwa, Sakurai city, Nara
Access: 5-minute walk from JR Miwa Station
Admission fee: Free
Payment: Cash only
Yamanobe-no-michi 山の辺の道
Walking tour
Please contact KANSAI NARA Treasure Travel via inquiry form