There are many great reasons to explore the cities and countryside that make up the southern Nara Basin, including that it is absolutely packed with amazing historical treasures, charming towns, and beautiful countryside. One special location in this area, which has a fun tradition of hosting special seasonal community events, is the topic of today's blog—the Ofusa Kannon Temple of Kashihara City. For more info, please read on below.
Dating back to Feudal Japan, it is said that this Buddhist temple was founded after a local girl named "Ofusa" prayed to the Buddhist deity Kannon (often called the "goddess of compassion") at the location the temple is built today. Unlike more wealthy temples who often had the support of people of high status backing their construction, Ofusa Kannon was built through the support and efforts of local people in the area and maintained by the same people over the generations; perhaps because of this the temple seems to have an especially warm and welcoming atmosphere. When you enter through the temple's front gate you are immediately greeted by the beautiful garden surrounding the complex, through which winding paths take you past blossoming roses or singing wind chimes (and sometimes both) depending on the time of the year you visit. In fact, the official temple website boasts that there are 2,300 varieties of rose that can be seen on the temple premises!
I recently visited the temple for its Wind Chime Festival, which is held from July 1st to August 31st. Though a blisteringly hot day in August, the beauty of the wind chime-lined paths, nestled between rose bushes and blossoming sunflowers, quickly distracted me from the weather. I was soon immersed in the sacred atmosphere of temple complex, which felt especially surreal amidst the melody of wind chimes cascading through the air.
I quickly realized that most of the wind chimes had their own unique individual designs, from shapes resembling bathtub rubber ducks, to clear crystal chimes elegantly painted with fish and flowers, you could easily spend all day admiring the artwork alone. Despite this wondrous and unique sight of green gardens filled with fluttering wind chimes, there were surprisingly few visitors there to see it. I imagine that for those looking to escape from the crowds, Ofusa Kannon Temple would make an ideal spot to check out, nestled away as it is in the traditional neighborhood of Yagi.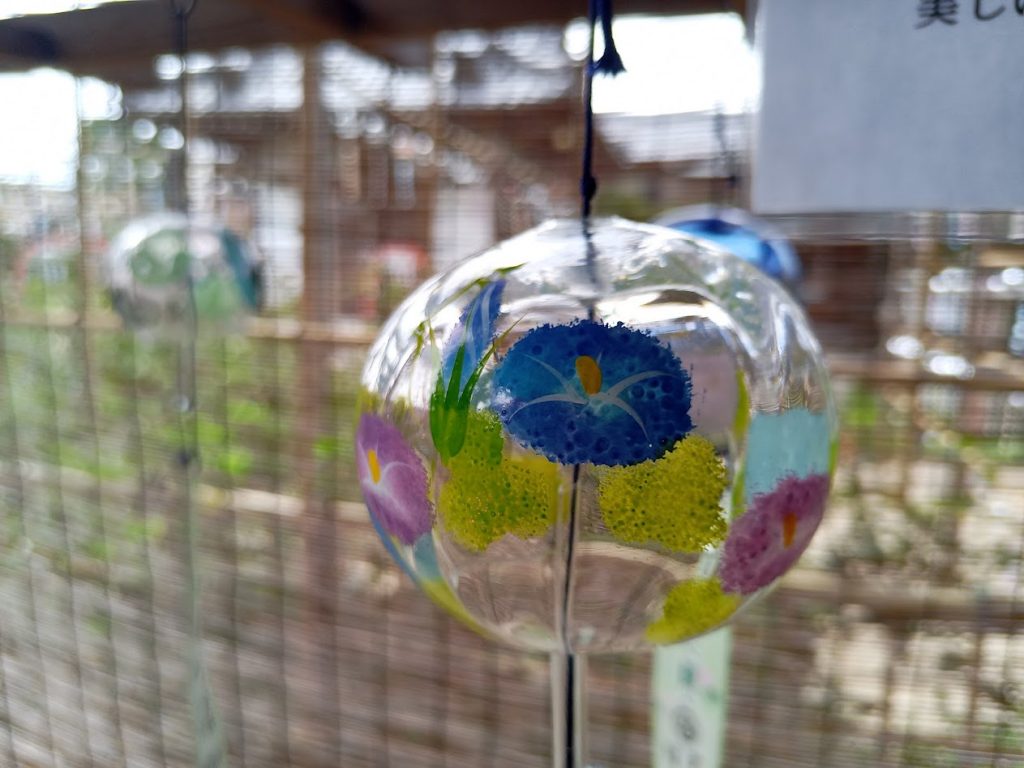 The specific area of Kashihara City where Ofusa Kannon Temple is located actually has a lot of Edo period feel to it, including narrow streets and traditional architecture. Not far (about a 15 minute walk on foot) from the temple is Imai-cho, an amazingly well-preserved fortified merchant town that still has around 500 Edo period structures inside of it. These days many of these structures have been converted into modern shops that sell delicious food or interesting souvenirs, making it a great place to take a wander through on a lazy afternoon.
Also located nearby is the spacious Kashihara-jingu Shrine, which contains a large forest, mountain, and pond all within its grounds. The shrine itself was built during the Meiji period and is believed to enshrine Japan's first Emperor, Jimmu Tenno.
In truth, there are so many amazing places to see around this area of the southern Nara Basin. For more info about the area, guidance, or to book a custom tour, feel free to contact us here at Kansai Nara Treasure Travel anytime.
Access
Ofusa Kannon Temple is within walking distance of both JR Unebi Station (10 minutes) and Kintesu Yamato-Yagi Station (15 minutes), though Yamato-Yagi Station is by far the more convenient point of access since it has lines from Kyoto, Osaka and Nagoya directly running through it.  It is also possible to rent a bicycle from Kashihara Navi Plaza for a day (700 yen for gear and 1,000 for electric) for a day so that you can explore the much wider area, including neighboring locations like Sakurai City and Asuka Village.
Price
The temple grounds (where the roses and wind chimes can be found) are free to access to all, but entering the main hall is 300 yen per person. Please check the temple's official website for more details / price updates.