Noborioji Hotel is a small luxury hotel located closest to Nara Park, where you can meet many deer.
It's in heart of the city, but once you step inside the hotel, you enter a very quiet and relaxing atmosphere.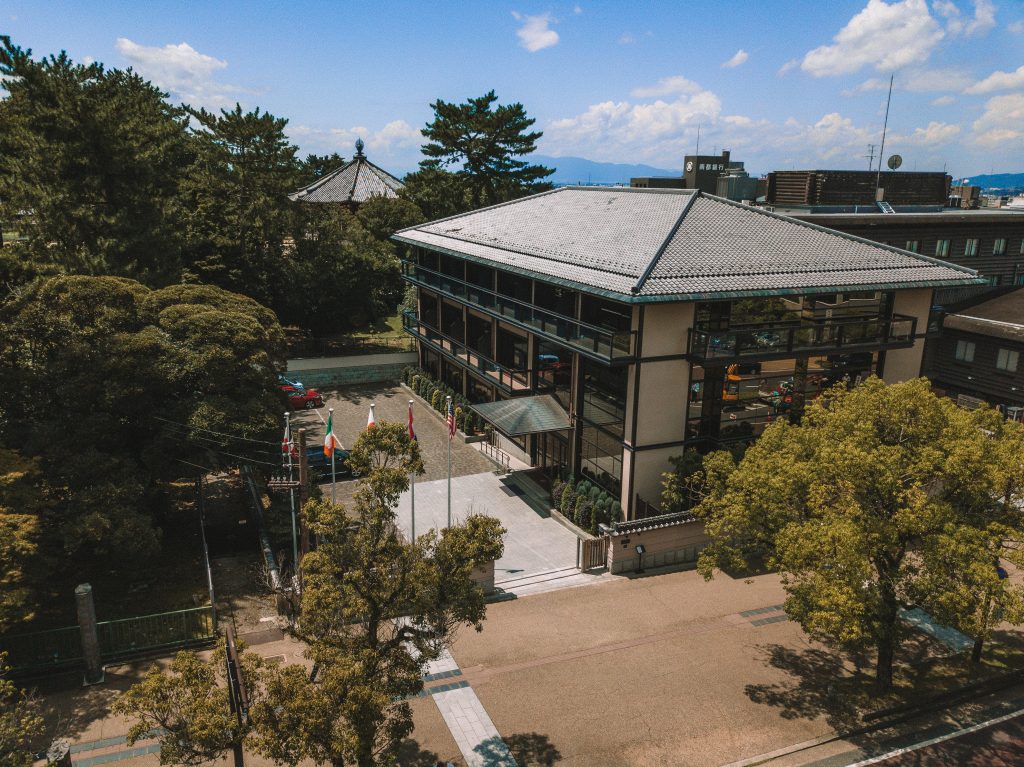 Noborioji Hotel allows you to wake up to the majestic sight of Kohfukuji Temple, a World Heritage site, and the green of the temple grounds just outside your window.
The European-style rooms are a comfortable 40-70 meters squared, with televisions installed in the bathrooms. I recommend rooms with views of Kohfukuji Temple garden and building.
The highest brand of classic furniture, Drexel Heritage is standard throughout the hotel.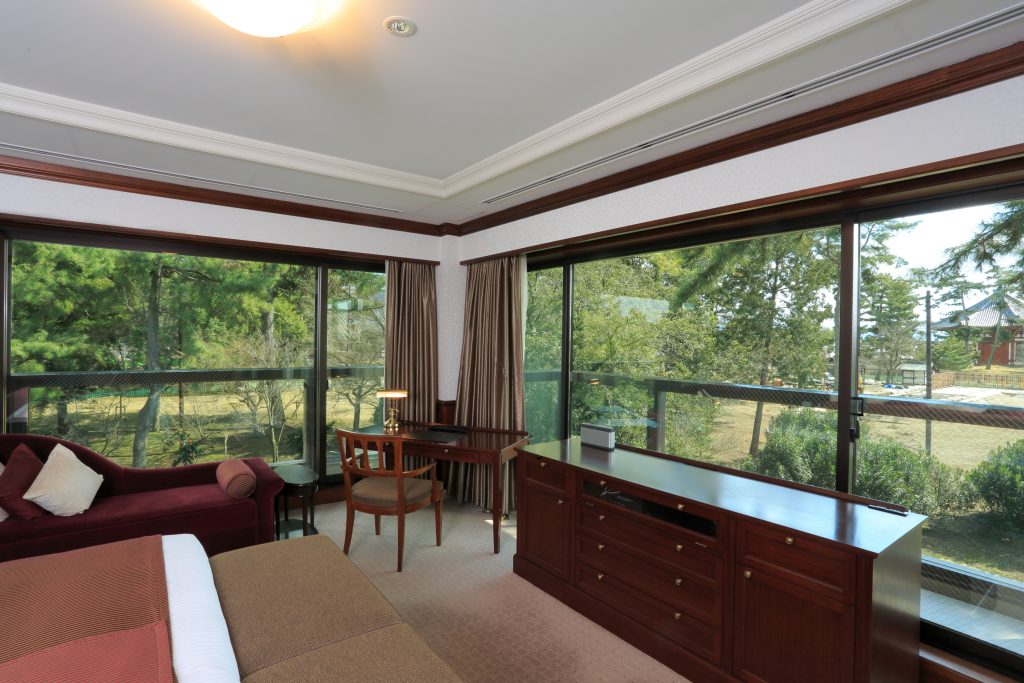 Along with an unbeatable location, Noborioji boasts an elegant bar, top quality French cuisine made with local ingredients, and the finest in old-school Japanese hospitality.
You can savor authentic French cuisine paired with wine as a "wine marriage" in the French restaurant, Le Bois.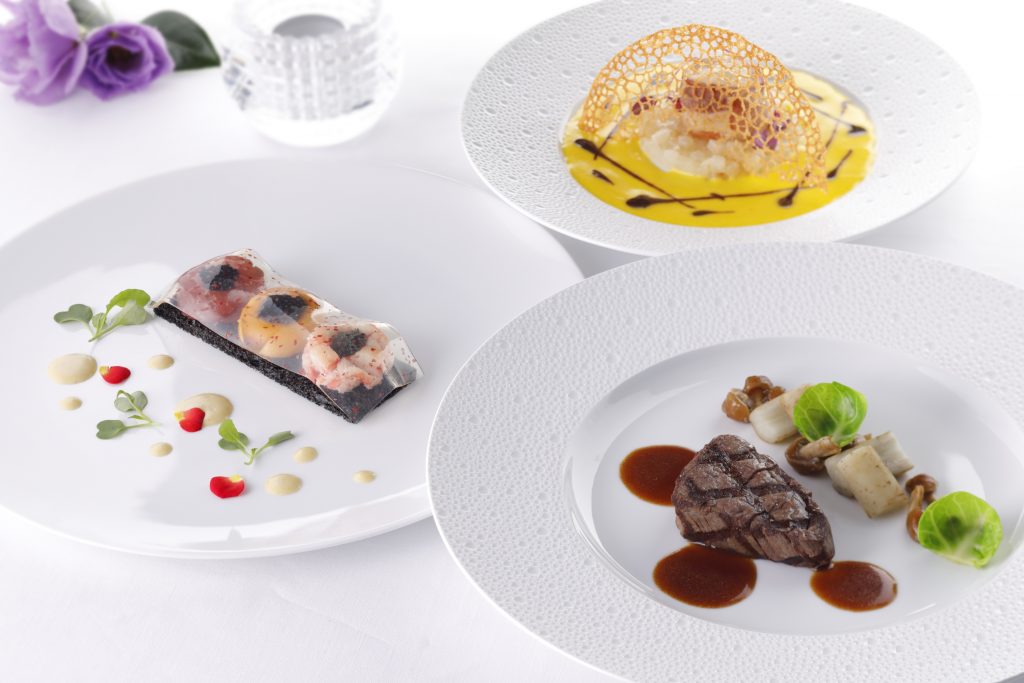 There is a Steinway D-274 grand piano in Le Bois, and they occasionally put on concerts there.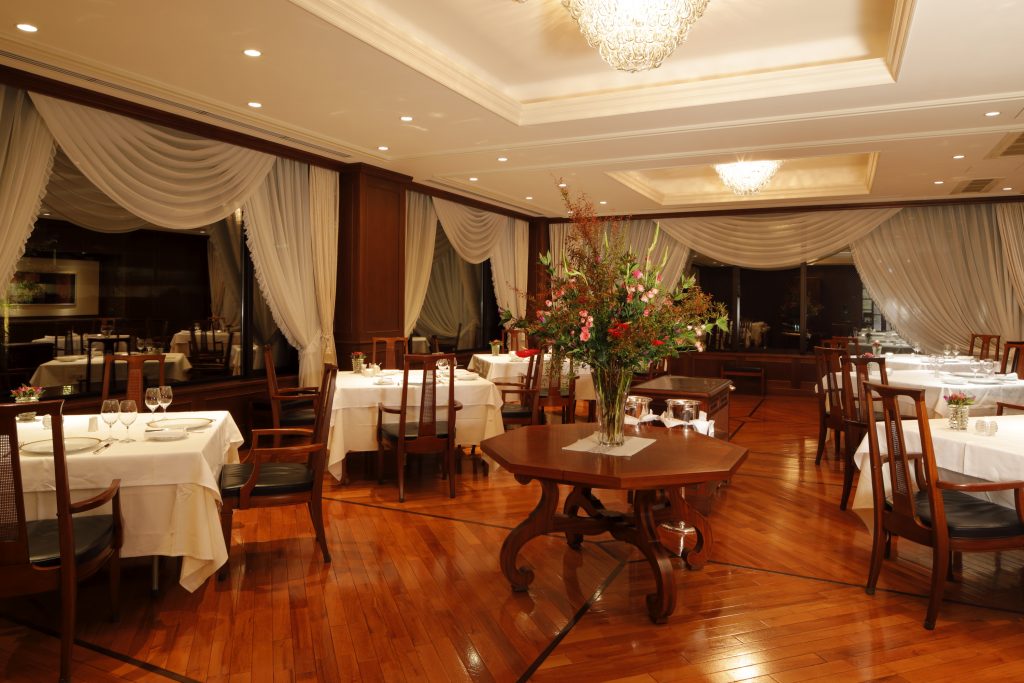 You can spend a sumptuous time in their chic bar, "The Bar", only available to guests and hotel members. The bar has a good selection of 18-year-old single malt whiskey and brandy.
Although part of the hotel is non-smoking, you can still enjoy a cigar in the bar.
I need to let you know that the hotel has a concept of a "social gathering for adults", which means that children under junior high school age are not allowed.
This small luxury hotel requires membership, but 14 rooms are available to non-members. With so few guest rooms, the hotel staff can provide attentive hospitality.
The hotel has passed the rigorous criteria of the "Small Luxury Hotels of the World" every year.
It has also been awarded "four red pavilions, the best comfort hotel" by the Michelin Guide Nara, and ranked as the best among the four hotels rated in Nara.
Here's a message for you from a member of the hotel staff!
"Welcome to our hotel in Nara, which we love! With our deer and primeval forest, we hope you can get a feel for Nara's history and nature, filling your heart with the mysterious calm of the night and morning, and making yourself at home in our hotel."
Noborioji Hotel Nara
Address: 40-1, Noboriojicho, Nara City
*The fitness room is available.
=Our Sample Tours Staying in This Hotel=
Winter Tour to Precious Sacred Places
https://nara-sightseeing.com/itinerary/11069/
Hiking Tour in Nara
https://nara-sightseeing.com/itinerary/11066/