One of the most popular things to do in Nara is to feed deer crackers to deer in Nara Park.
You can find many deer cracker stands to buy some in Nara Park.
The price is 200 JPY for a pack of ten crackers.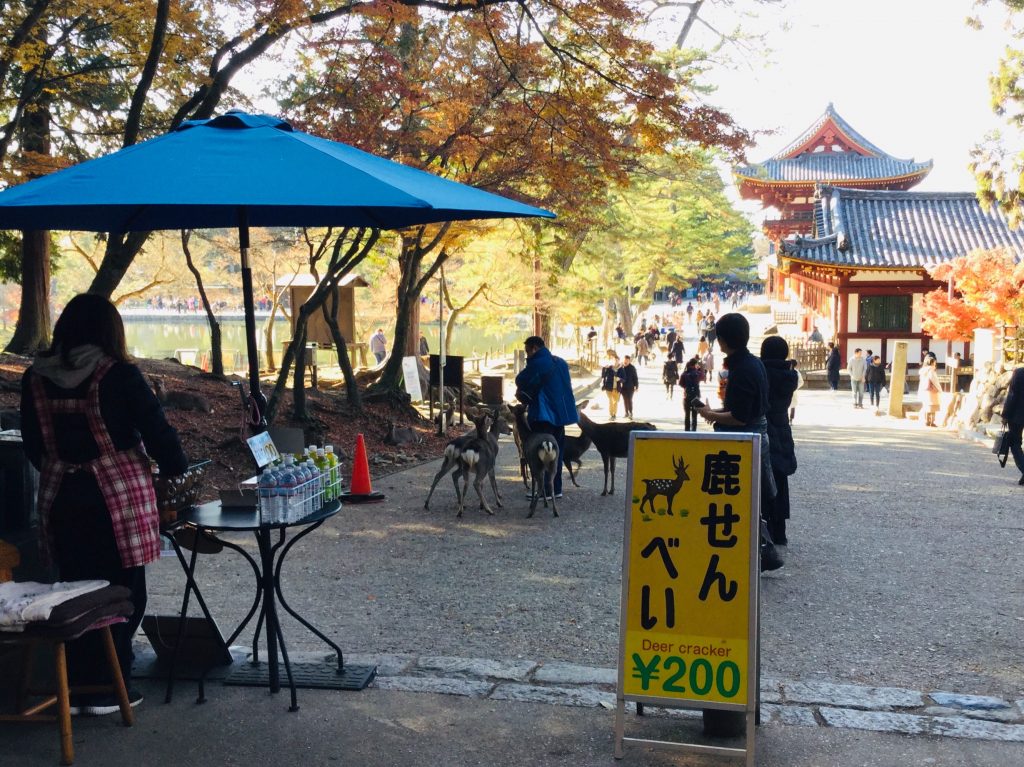 Bits of knowledge for you.
Their staple diet is lawn grass, which is everywhere in Nara Park. They eat about 5 kg of lawn grass a day. Small portion of crackers, being high-nutrient though, is just a snack for them.
The ingredients are rice bran and wheat only. No sugar or spice included for deer's health.
Even the tape wrapping crackers are made 100% of pulp, and the ink is made from soy bean in case they happen to eat it. But I don't recommend you to try a bite because they are touched by many people's hands and could get dusty.
Deer cracker started to be sold to travelers to Nara in 1670s.
Now there are 5 deer cracker factories in Japan, all of them are located in Nara City.
A part of the crackers sale goes to The Nara Deer Preservation General Incorporated Foundation.
It's used for deer preservation such as supporting injured deer or childbirth.
To avoid a trouble with deer…
Please kindly do not keep deer hanging by not feeding when you hold crackers.
Remember they are wild animal and there is a possibility that they head-butt, kick or bite.
For deer's health, remind you that you do not give them any food other than crackers.
Make a great memory with deer in Nara!