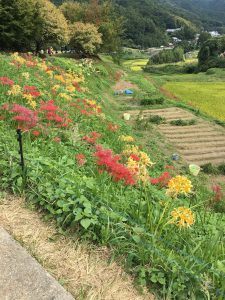 In Asuka Village, the 28th annual Scarecrow Contest is just around the corner! This year's theme is "Flowers, Insects, and Abundant Nature through Scarecrows." The scarecrows displayed along the famous "Scarecrow Road," which are all submissions from the public, have become a beloved tradition during this time of year. The exhibition will run from August 27th to late November.
The locally crafted scarecrows exude a simple and heartwarming charm, adding an even more idyllic touch to the serene terraced rice paddies of the Inabuchi area in Asuka. It's impossible not to smile at the abundance of adorable scarecrows that grace the landscape.
In another month, Asuka will be covered in bright red higanbana (red spider lilies) during the Higanbana Festival. This period marks the prime season to visit Asuka.
The vivid crimson higanbana against the backdrop of terraced rice fields creates a dazzling scene. Moreover, in Inabuchi, you'll not only find red higanbana but also the delightful sight of yellow and white variations as well.
Why not seize this opportunity and come experience the beauty of Asuka for yourself? It's a chance to immerse yourself in the captivating allure of scarecrows and the breathtaking higanbana blossoms. Don't miss the chance to create some new unforgettable memories in Asuka this year!