The allure of autumn foliage is rivaled only by the cherry blossoms in Japan. When the leaves turn, towns and landscapes burst into a riot of colors, creating a spectacle that's nothing short of breathtaking. The Japan Meteorological Association has recently released the year's first "Autumn Foliage Peak Forecast." This year in the Kansai region, we can expect the vibrant foliage to grace us with its presence from mid-November to early December, much as it does in typical years. Here Kansai promises no shortage of remarkable spots to revel in the autumn foliage.
Osaka Castle (Early Nov. to Early Dec.)
Osaka Castle is renowned for its breathtaking autumn foliage, and if you're staying in Osaka, I'd recommend starting your day with a walk around this historical gem. Along the outer moat there is a resplendent golden tunnel of ginkgo trees, while inside the park, a kaleidoscope of 3,000 cherry, zelkova, and maple trees slowly transition from early November to early December, painting the castle grounds in vibrant hues.
Kyoto's Arashiyama (Late Nov. to Early Dec.)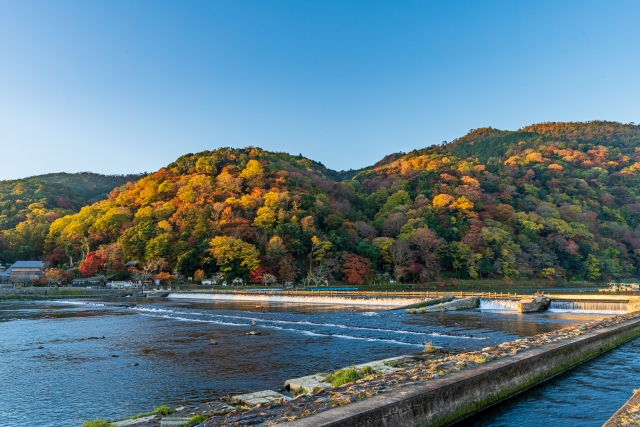 In Kyoto's Arashiyama area, the iconic Togetsukyo Bridge spans the Katsuragawa River, set against a backdrop of fiery reds and golden yellows. But the magic doesn't end there. If you hop aboard the Sagano Scenic Railway, or the "Torokko" train, running alongside the Hozu River, you'll be treated to a mesmerizing display of illuminated maple trees. Nighttime is just as delightful as the day. Arashiyama boasts a host of attractions swathed in autumnal splendor, with Tenryu-ji Temple being a standout. To savor the full experience, consider staying nearby and indulging in a leisurely exploration. Typically, the prime time to catch the foliage here is from late November to early December.
Kyoto City (Late Nov. to Early Dec.)
The fall foliage also decorates various regions of downtown Kyoto City, setting the stage for a magical experience from late November to early December. During this time, many temples and shrines in Kyoto host special nighttime viewings, allowing visitors to witness the autumnal spectacle in a whole new light. Famous sites like Kiyomizu-dera, Ginkaku-ji (the Silver Pavilion), and Eikando Temple are among those that extend a warm invitation to their enchanting illuminated gardens.
Don't miss the chance to immerse yourself in the serene beauty of these historic places under the cover of night.
●Eikando Temple
📌 48 Eikandocho, Sakyo Ward, Kyoto, 606-8445
Period: November 3, 2023 (Friday, holiday) – December 3, 2023 (Sunday)
Hours: 17:30 – 21:00 (Last admission at 20:30)
Admission Fee: 600 JPY
●Kiyomizudera Temple
📌 1-294 Kiyomizu, Higashiyama Ward, Kyoto, 605-0862
Period: November 18, 2023 (Saturday) – November 30, 2023 (Thursday)
Hours: 17:30 – 21:00 (Last admission)
Admission Fee: 400 JPY
●Kodai-ji Temple
📌 526 Shimokawara-cho, Kodai-ji, Higashiyama Ward, Kyoto, 605-0825
Period: October 21, 2023 (Saturday) – December 10, 2023 (Sunday)
Hours: 17:00 (Illumination) – 22:00 (Last admission 21:30)
Admission Fee: 600 JPY
Nara Park (Late Oct. – Early Dec.)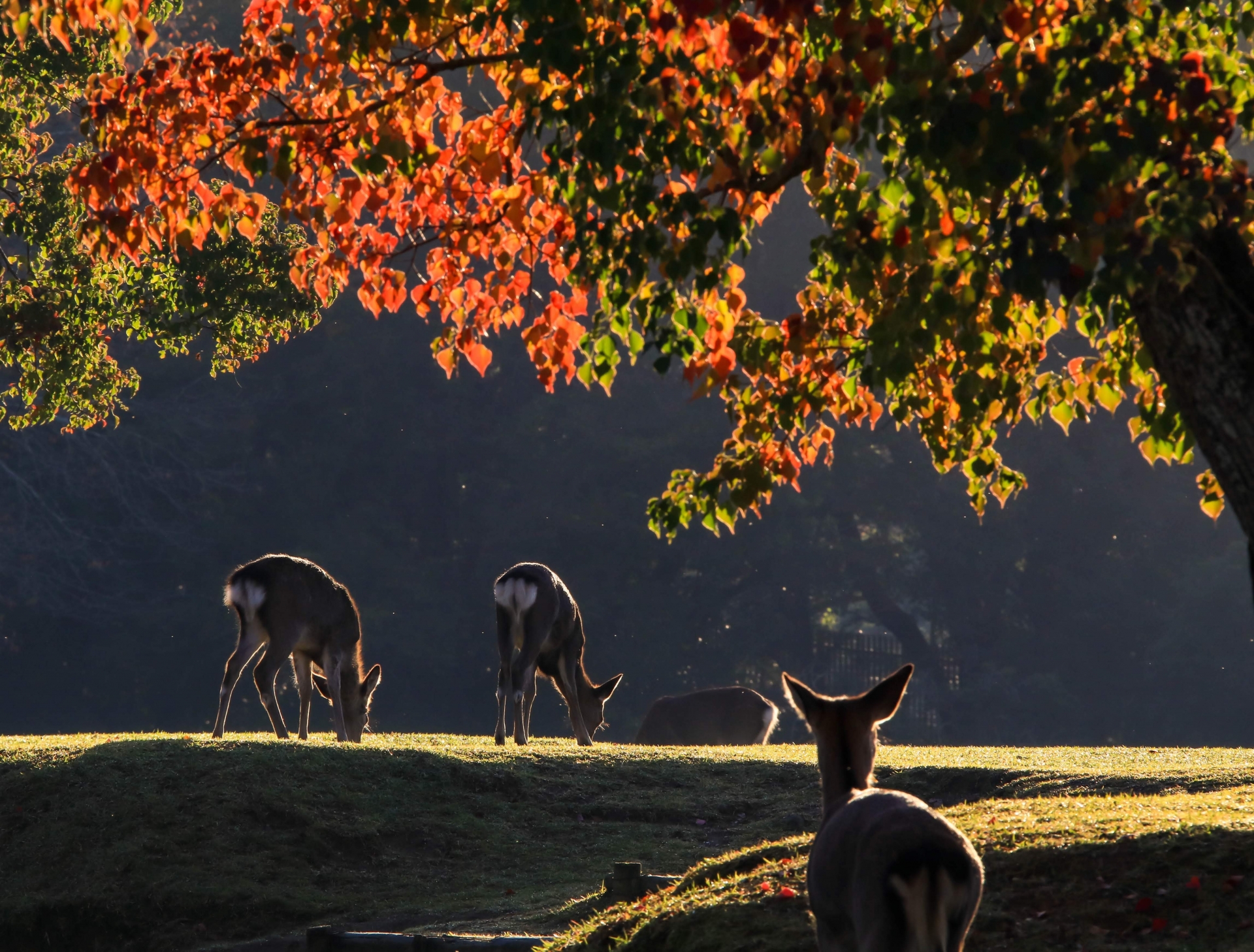 Nara is a place where history and nature converge seamlessly and Nara Park is a tranquil haven where wild deer, honored as national natural treasures, share their home with visitors. As autumn paints its canvas, the park transforms. Cherry trees and ginkgo trees burst into a symphony of colors, creating a picturesque setting. It's a unique opportunity to witness both the elegance of deer and the grace of fall foliage in one place.
For those seeking a deeper connection with nature, a hike through the Kasugayama Primeval Forest, just a stone's throw away, is highly recommended.
Yoshino Mountain (Mid-Oct. – Late Nov.)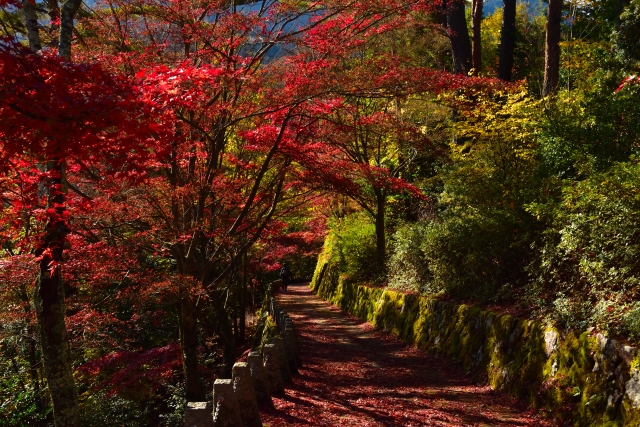 Yoshino Mountain, famed for its stunning cherry blossoms, unveils another breathtaking spectacle in the autumn months as the mountain transforms into a vibrant canvas of reds, oranges, and yellows. During this enchanting season, an extra touch of magic graces Yoshino Mountain. From November 1st to November 30th, the mountain is bathed in gentle illumination until 10:00 PM, creating a truly magical atmosphere.
For those with a penchant for cultural experiences, the UNESCO World Heritage Site, Kinpusenji Temple, hosts a special event from October 27th to November 30th. During this period, the temple unveils its hidden treasure, the Gohonzon (the icon of the main deity) of Kinpusenji Temple. It's a rare opportunity to witness the spiritual heart of this sacred place.
If you're looking for an exclusive adventure, don't miss the night visits on October 28th, November 5th, 10th, 18th, and 22nd. These evenings are reserved for guests staying on Yoshino Mountain, offering an intimate, insider's perspective of this autumn wonderland. Consider immersing yourself in the beauty of autumn in Yoshino by spending a night on this picturesque mountain.
Kinpusenji Temple – Special Opening of Three Deities Including the Hidden Main Deity, Kongo Zao Daigongen(金剛蔵王大権現)
Period: From October 27th (Fri.), 5th year of Reiwa – November 30th (Thu.)
Hours: 8:30 AM – 4:00 PM (Visiting may be temporarily restricted due to ceremonies, etc.)
Admission Fee: Adults 1,600JPY, Middle and High School Students 1,200JPY, Elementary School Students 800JPY(Group discounts available)
During this special period, Kinpusenji Temple offers the rare opportunity to see their three magnificent statues of deities, including the hidden main deity, Kongo Zao Daigongen. Visitors can explore the temple and witness the religious and cultural significance of this special event. Please note that visiting hours may vary due to ceremonies and other activities, so it's a good idea to check the temple's official website or contact them directly for the most up-to-date information.
Kimpusen-ji Temple – Exclusive Special Night Viewing for Visitors Staying on Yoshino Mountain
Dates: October 28 (Sat.), November 5 (Sun.), November 10 (Fri.), November 18 (Sat.), November 22 (Wed.)
Meeting Time: 7:45 PM (Meet in front of the Kimpusen-ji Temple Zao-do Hall)
Fee: In addition to the accommodation fee per person, an additional 5,000 yen is required.
Certainly, Kansai is a beautiful region in Japan, especially during the autumn season when the vibrant foliage paints the landscape. There are many other spots to explore, and the autumn events, especially the nighttime illuminations, offer a unique experience. Planning a trip to Kansai this fall is a great idea.
At KANSAI NARA Treasure Travel, our dedicated concierges are here to assist you with every aspect of your travel plans, from creating your tour itinerary to supporting you during your trip. Since autumn is a popular season, it's advisable to reach out to us as early as possible to plan your journey effectively.
Enjoy the stunning autumn colors and the unique atmosphere of Kansai during this wonderful season! If you have any specific questions or need assistance with planning your trip, feel free to ask.