Have plans to visit Nara Prefecture this fall? You may want to consider adding a visit to Nara's southern mountains where the 2023 "Mind Trail Okuyamato Museum in Your Mind" event is now in full swing. This unique fall exhibition , which first started in the year 2020, asks participants to visit the countryside environments which lay on the periphery of the cities and suburbs of the densely populated Nara Basin and discover the nature and culture of "Deep Nara." This year, the event is taking place in three locations: the towns of Yoshino, Shimoichi, and the village of Shimokitayama, respectively.
Background
Mind Trail was created in 2020 as a result of cooperation between artists and the local people of Nara to revitalize tourism during the COVID-19 pandemic. Having outdoor displays in nature not only adds to the creative aspects of each piece, but also provides relatively safe spaces that people may feel more comfortable vising with others. The event is intended not only to highlight the artists work, but to promote each regions' natural abundance, industry, people, and culture. Every year the event's theme changes, with 2o23's being "competency"  drawing on the idea of each person's power contributing to the revitalization of these rural regions.
For more info directly from the organizers themselves, please see the official website: https://mindtrail.okuyamato.jp/
Mind Trail is an event that asks for the engagement of visitors, even so at the cost of some of the art perhaps going overlooked by most people who visit as they are located in easy to miss or hard to reach locations that require a bit of a hike.  This is clearly an intentional choice on the part of the organizers and it makes the event seem almost spontaneous—just as you may by chance spot a deer in the forest or happen upon a patch of flowers in a clearing, an unexpected display of art will catch you off guard and feel engaging in a way that many indoor museums may not. Though there is a map which gives you a basic idea of where each art display is, it is not exact and does not explain what the piece looks like, leaving a fair amount of room for personal discovery.
A Region Rich in Nature & Culture
This southern mountains of Nara have long been considered a sacred land of the gods throughout Japan's known history, with its especially rugged landscapes, pristine rivers and towering peaks which see an abundance of rainfall, frequently creating the unkai or "sea of clouds" effect, turning mountain peaks into islands. Each season has its own special beauty as well, with spring and summer flowers, fall colors, and a blanket of white snow and frozen streams in the winter. In this way, nature already creates its own art here, so the Mind Trail artists have an already amazing organic canvas to work with. Furthermore, the activities of local people change with the seasons as well, as farms and rice fields see their harvests come to fruition and preparations begin for the cold. Visitors can observe the seasonal changes, both natural and related to human activities, alongside the artwork, depending on when they choose to visit.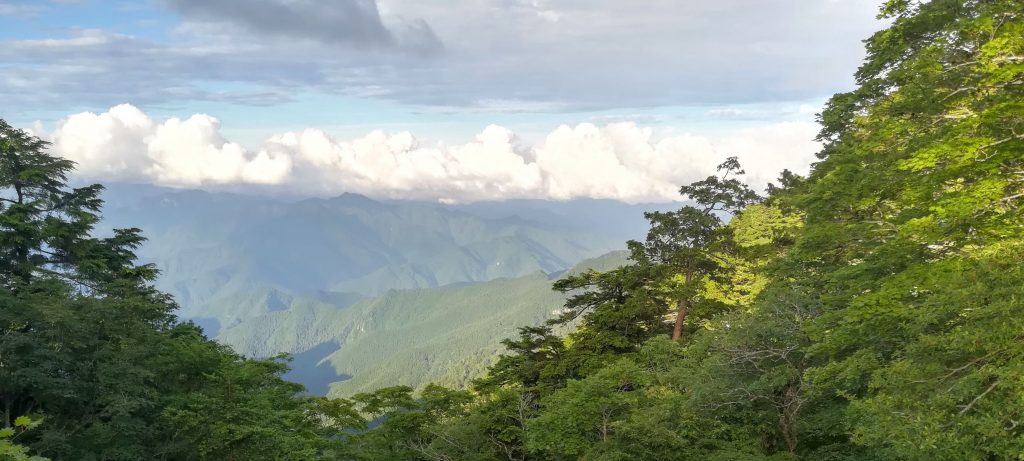 The Omine Mountains in Nara are also famous as the birthplace of the Shugendo faith, an indigenous religion to Japan whose members often do ascetic training out in the nature. Creative expressions of faith from Shugendo practitioners can be found throughout the mountains of Japan. The centuries of artistry and thought that has gone into the sacred sites found along the paths in the mountains of southern Nara, including use of space, architecture and sculpture, is simply astounding and provides a rich historical background for modern-day artists of the area to draw inspiration from.
Some examples of Mind Trail 2023 art:
The above photos are all from the mountain temple district of Yoshinoyama in the town of Yoshino and only just a small sample of what there is to see and interact with in the overall Mind Trail 2023 event. If you want more info about the event or looking for guiding services in the regions where the event is taking place, feel free to contact us anytime.
Access Info
Locations: Yoshino Town, Shimoichi Town, Shimokitayama Village
Yoshino Town's Mind Trail artwork is all located in the mountain temple district of Yoshinoyama (aka "Mt. Yoshino") which can be easily accessed by Yoshino Station. See the official website's map of the area here.
Shimoichi is a bit more tricky to access as the display area is not close to a train station (see map here) but there is a bus that goes to the starting point of the course (next to Shimoichi Onsen Akitsuso) from Shimoichiguchi Station, which takes about 20 minutes one-way.
Shimokitayama Village is located in a very remote part of the Kii Peninsula with no direct train access, though there are long bus rides from Nara or Wakayama that you can take to get there (more info about transportation here) but considering the time required, it is recommended that you book a place to stay for the night in the village, or have access to a personal vehicle. Info about the course here.
Display for all areas:  9/16/2023 – 11/12/2023
Times: Many displays never formally "close" as they are just placed outdoors, but there are a few that ask visitors only come during daytime hours or are on display inside places that keep business hours. There are also a view displays that make use of lights, sound or video that are only activated during certain hours (including evening-only displays).
Fees: N/A