"Yatakiya" is a boutique hotel located in Uda City, Nara Prefecture, which is about an hour away from Osaka-Namba Station by Kintetsu Limited Express. It opened in 2022 and is a traditional Japanese house with a thatched roof that has been passed down for 300 years, renovated into a small luxury hotel. With the concept of reconnecting with nature and reevaluating health, this traditional house hotel focuses on the region's industry of medicinal herbs. It provides a healing space surrounded by nature and offers experiential programs and meals with a focus on health. It's a place where you can escape the hustle and bustle of the city and take your time to feel the changing of the  seasons.
<Meals>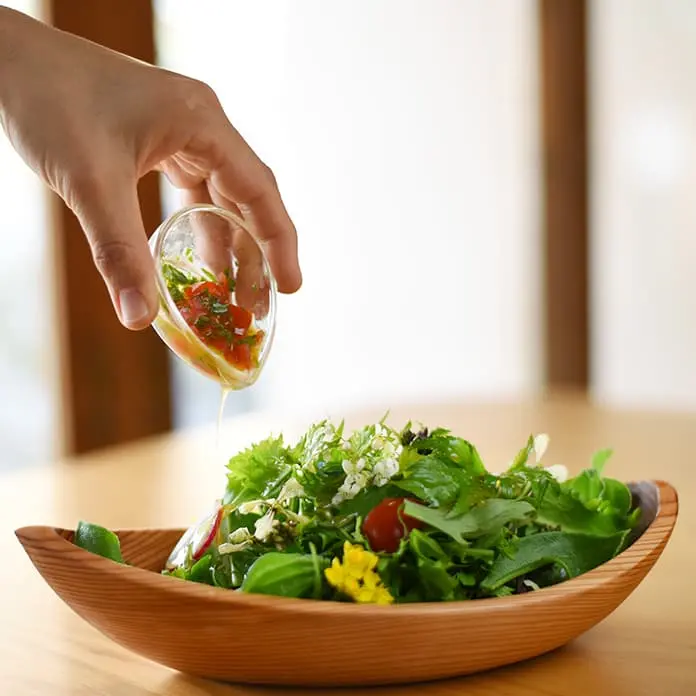 Yatakiya offers creative Italian cuisine made from carefully selected ingredients, including pesticide-free and organic vegetables cultivated in the on-site farm. You can enjoy meals that are gentle on your body, featuring an abundance of herbs and locally sourced vegetables that have been thoughtfully prepared for your pleasure.
<Rooms>
There are four guest rooms, each of which has been fully renovated including the storeroom and outhouse. In the bath are used homemade bath salts blended with Yamato Tohki, which is a medicinal herb with ties to Nara Prefecture. It is commonly used in traditional Chinese medicine for women's health and is believed to be effective for improving blood circulation, alleviating coldness, and promoting overall health.
<Experience>
Through various experiences, guests can interact with nature, engage their senses, contemplate the meaning of "health," and gain insights into their well-being. Focusing on the keywords "exercise," "rest," and "nutrition," the goal is to help guests focus on their own physical and mental health, aiming to create opportunities for positive changes in their daily lives.
For more details, please refer to our well-being tour at  https://nara-sightseeing.com/itinerary/2days-wellbeing-stay-at-yatakiya/ ‎