This museum is located on the corner of "Yoko-oji", a main street stretching out east and west and "Shimotsu-michi", a huge street connecting capital Heijo-kyo and the former capital Fujiwara-kyo in a north-south direction.
Since the old time, this area had been the center of commerce. In the Edo era, so many people from the nation traveled to Ise Jingu Shrine and Hase-dera Temple. A bunch of travelers were coming and going here. So, many guest houses used to open for them.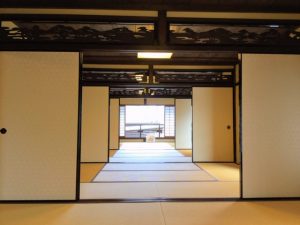 The museum was used to be a guest house in the Edo era. In this renovated museum, you can learn what the guest house was like back in those days.
You would notice how the guest house was thriving seeing the artistic fine details of its architecture and the furniture. Each designs of the fanlights and the pull handles of sliding doors are different and detailed.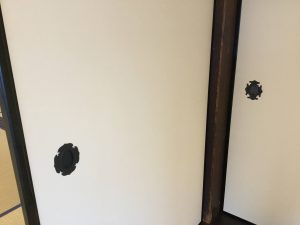 You can find some interesting remnants of the guest house. On the first floor, there is a water well. It is still upwelling, which used to be used for cooking and washing traveler's feet back then.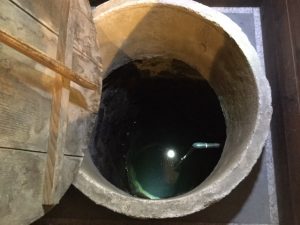 "The water well" you can see the fresh water inside.
The stair to the second floor has a lid on the second floor. The lid was shut and locked at night to prevent guests dropping off and to prevent a thief coming in.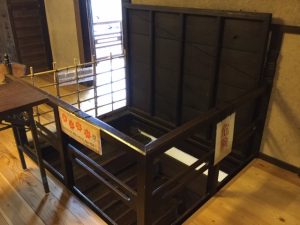 "The stair and the lid on the second floor"
When you sit on the tatami mat gazing the Japanese garden from the second floor, you might be able to imagine people's talks and laughs in those time.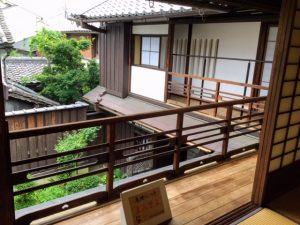 Around the museum, you can find some historical architectures and some big stone lanterns alongside the street.
Today, this area is still the busy town where some train lines coming across from Osaka, Nara, Yoshino, Wakayama and Mie. Kashihara Navi Plaza next to Yamato Yagi station is a tourist information center and has a bicycle rental service. Why don't you stop by Yamato Yagi station and bike around?
===========================================
Yagifuda-no-Tsuji Museum
Address: 2-1-1, Kitayagi-cho, Kashihara City
Open: 9:00-17:00
Close: Monday, 12/25-1/5
Entrée fee: free