The Sakura with Deep Historical Roots
Yoshinoyama or "Mt. Yoshino" as it is commonly known in English (although it is not an actual mountain, rather a ridgeline district of the town of Yoshino), is world famous for its thousands of beautiful cherry blossom trees or "sakura" which blossom every spring around the end of March / start of April. These blossoms can draw in hundreds of thousands of visitors in a normal year, turning the usually quiet town of Yoshino into a place bursting with activity rivaling rush hour in downtown Tokyo.
So, what is the origin of this cultural event that takes place every year in Yoshinoyama? Many locations around Japan are famous for sakura, but what makes Yoshino exceptional is that it has a 1,300-year-old historical culture that contains a spiritual tradition of reverence for these trees. In fact, this special sub-culture is credited with heavily influencing the way sakura is thought of throughout the entire country.
Prior to visiting Yoshinoyama, many would-be visitors may not know that the area is actually an old temple district similar to neighboring Wakayama Prefecture's Koyasan. A key difference, however, is Yoshinoyama's origins are rooted in the tradition of Shugendo, an indigenous faith centered around mountain worship and rigorous ascetic training. It is also from Shugendo that the culture of cultivating sakura in Yoshinoyama was formed.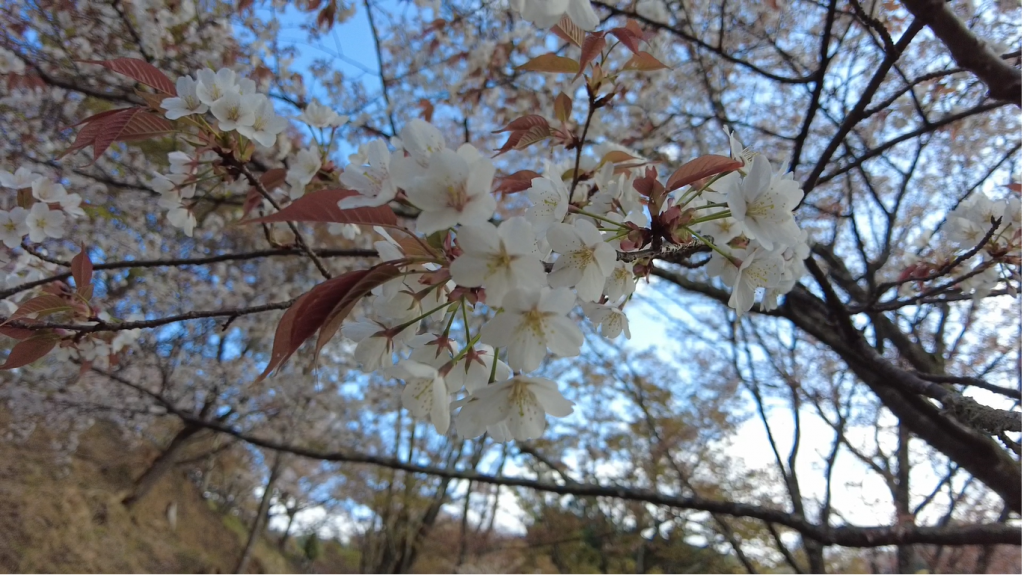 In regards to the founding of Shugendo, it is commonly believed that a mountain ascetic who lived in the Heian period (around 1,300 years ago) by the name of En no Gyoja created the original practices of the faith. According to legend, En no Gyoja, after having completed many days of ascetic practice in the mountains, witnessed the fiery first appearance of a deity known as Zao-gongen (the term "gongen" meaning a Buddha in the form of a nature god") on the peak of Mt. Omine (located roughly 24 KM south of Yoshinoyama).  This event inspired En no Gyoja to carve the deity's likeness from a chunk of sakura tree wood. From that point forward, the sakura has been considered a holy tree ("shinboku") in Shugendo in association with Zao-gongen.
After the founding of Kinpusen-ji Temple on Yoshinoyama by En no Gyoja, the tradition of planting sakura trees around the area as donations of faith to Zao-gongen was born and still continues to this day, with new ground being cleared for sakura trees currently visible around the Oku-senbon area of Yoshinoyama. Kinpusen-ji's impressive Zao-do Hall structure (said to be the 2nd largest wooden temple in Japan), is also dedicated to the deity and uses sakura blossoms in its roof design. So, when you look upon Yoshinoyama's vast sakura groves, you are actually looking at the expression of centuries of faith by Shugendo devotees.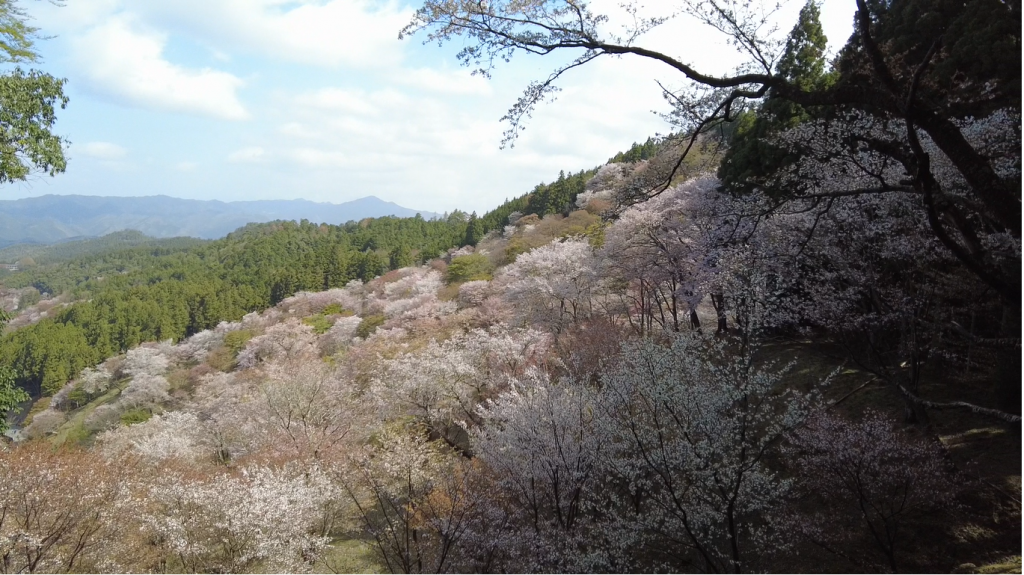 Our Recommended Way to Access the Sakura
So now that you know a bit about the history, what is the best way to see it all? Well, it depends on what kind of experience you are looking for.
These sakura groves are found in 4 areas on Yoshinoyama known as "senbon" (meaning "thousand  trees"), starting from the lowest section in the district known as  "Shimo-senbon," up to the highest point known as "Oku-senbon." It is possible to access all of these locations from the main ridgeline road of Yoshinoyama, but this almost certainly involves navigating your way through a horde of people for most of the route. If you wish to see the many interesting businesses, temples, and so on lining the main road, then there may not be a way to avoid the crowds. However, if you wish for an experience with less people, please continue reading below about the Sasayaki-no-komichi or "Whisper Road."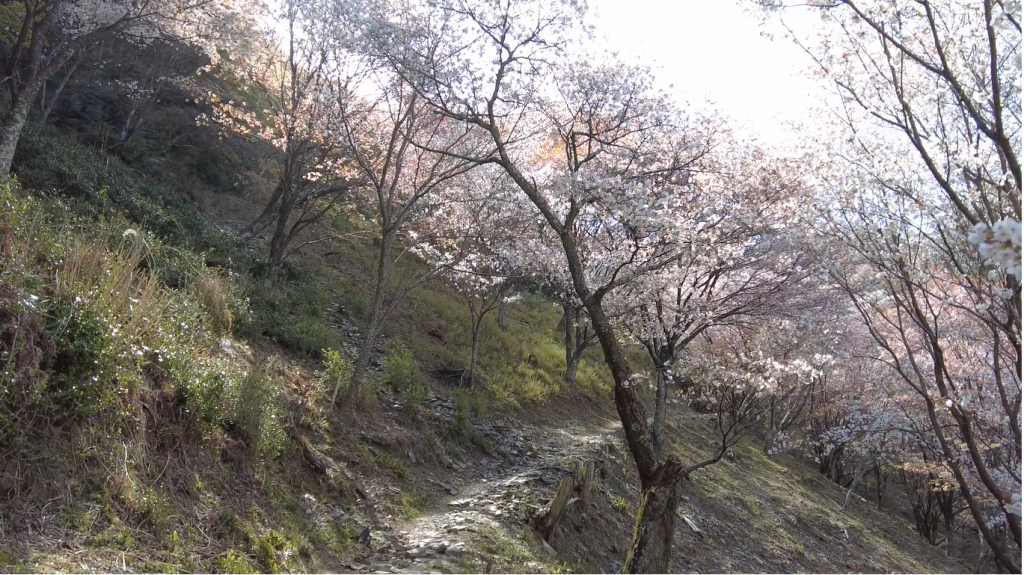 The Sasayaki-no-komichi "Whisper Road"
From the front of Yoshino Station (the main public transportation hub for Yoshinoyama) the most common way to access the district is to go to the right (west) up Nanamagari Road to the ridgeline, or take the ropeway (which just so happens to be oldest ropeway still in operation in Japan). However, there is an alternative route which starts to the left of the front gate (east) a little ways up the road. This route, known as the Sasayaki-no-komichi, runs past an old apartment building and leads up into Onsen-dani Valley, which is located just below the main ridgeline of Yoshinoyama and runs parallel to it.
Following the Sasayaki-no-komichi route you will find a beautiful forested river valley that takes you up into the Naka-senbon sakura grove. And, if you continue to follow this route left (east) when it eventually hits a fork, it will take you to an interesting temple known as Nyorin-ji and then up through the magical and vast Kami-senbon grove where you can wander aimlessly under falling sakura flower petals to your heart's content. This trail will almost certainly have significantly less people using it compared to the main road as it is much less well known and more rugged.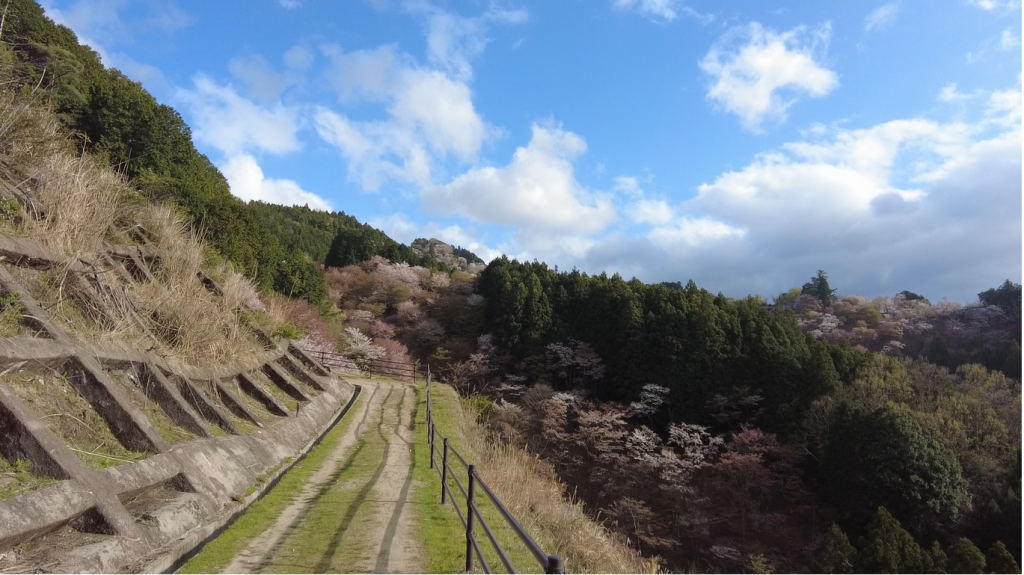 Conveniently, from this route it is also easy to head west back to the main ridgeline road at several different points along the way.  If however, you follow the route up through the forest for a few kilometers from the above mentioned Nyoirin-ji Temple, you will find yourself at the main road near Hanayagura Viewpoint &  the Yoshino Mikumari-jinja Shrine where you can continue onward to the Oku-senbon grove and the top of Yoshinoyama. Just be sure to wear some comfortable walking shoes and outdoor clothing.
It would make for a great day trip to walk up the Sasayaki-no-komichi and then come down on the main road (or vice versa) to get both the forest and town experience of Yoshinoyama. Just be aware that most places around Yoshinoyama (including temples and shrines) are scheduled to close around 5pm, with maybe a few restaurants and shops staying open for awhile into the evening to accommodate the influx of people during the sakura season.
And with that, we conclude this brief guide to Yoshinoyama and its fascinating historical relationship with sakura blossoms. We hope the above information proves useful for you.
If you have any trouble finding the above route, there is a small visitor center located next to Yoshino Station that should be able to provide you with directions and a map. Just mention the "Sasayaki-no-komichi" route.
See you in the spring time in Yoshinoyama!
For more info, please feel free to contact us at Kansai Nara Treasure Travel.