I introduce a Soba restaurant, Yamatoan, on Mt. Yoshino. Yoshino is one of the most popular cherry blossom spots in Japan. This region is in the middle of the rich natural environment.
The reasons I introduce this restaurant are first of all its soba is very delicious and secondly the character of the owner is very nice.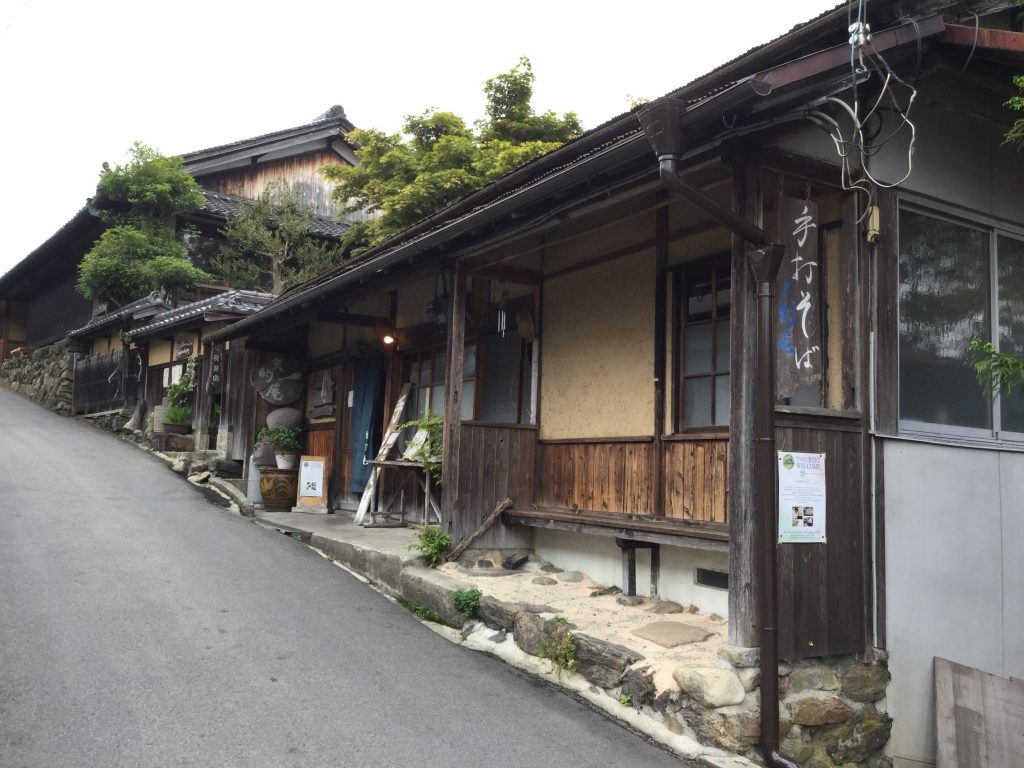 He uses the good quality ingredients such as Soba buckwheat flour produced in Shinshu, clear water from Mt. Yoshino and wasabi produced in Shinshu. Shinshu, Nagano Pref., is famous for soba, where have natural features well-suited to soba production.
He is also willing to use local vegetables or wild vegetable.
I shouldn't forget to mention that he sticks with making noodle hand-kneaded since its open. That gives noodle good texture and flavor. if you want to enjoy chewiness of noodle, order chilled noodle or noodle in cold broth.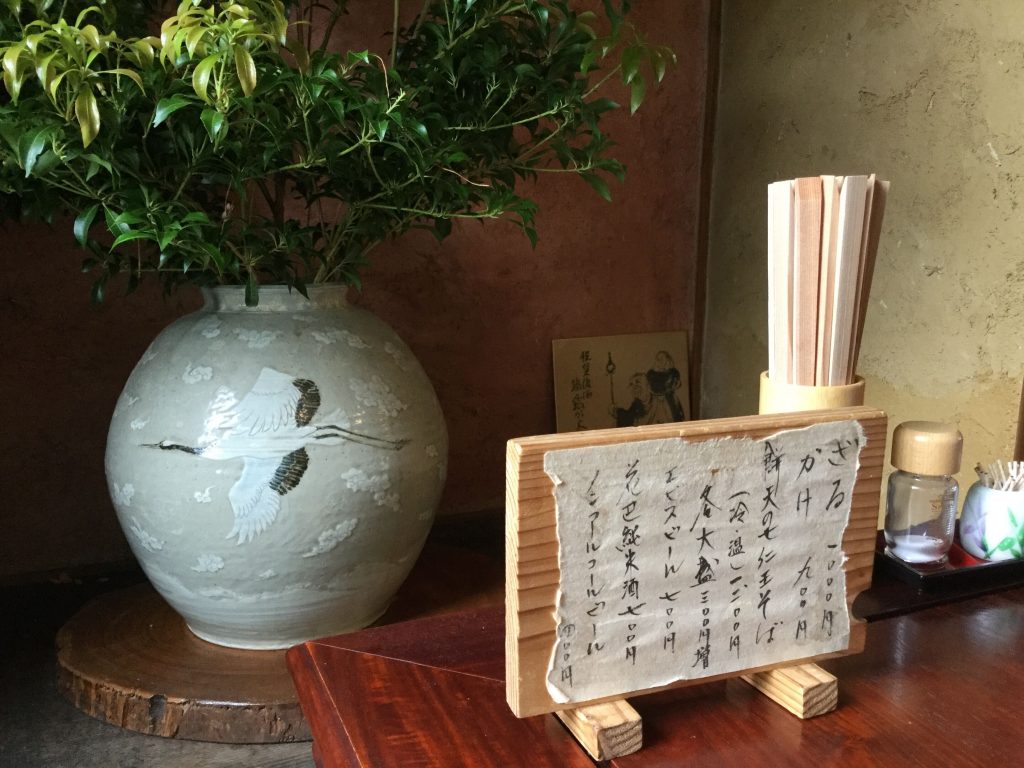 The soba noodle menus is following.
Zaru Soba: basic chilled soba noodles served on a flat basket.
Kake Soba: soba in hot broth.
Mochiten-nose Niou Soba: soba in hot/cold broth topped with fried mocha and grated daikon radish.
Inaka Soba: basic chilled soba noodles using stronger flavor of buckwheat flour. You can enjoy stronger aroma and flavor of soba.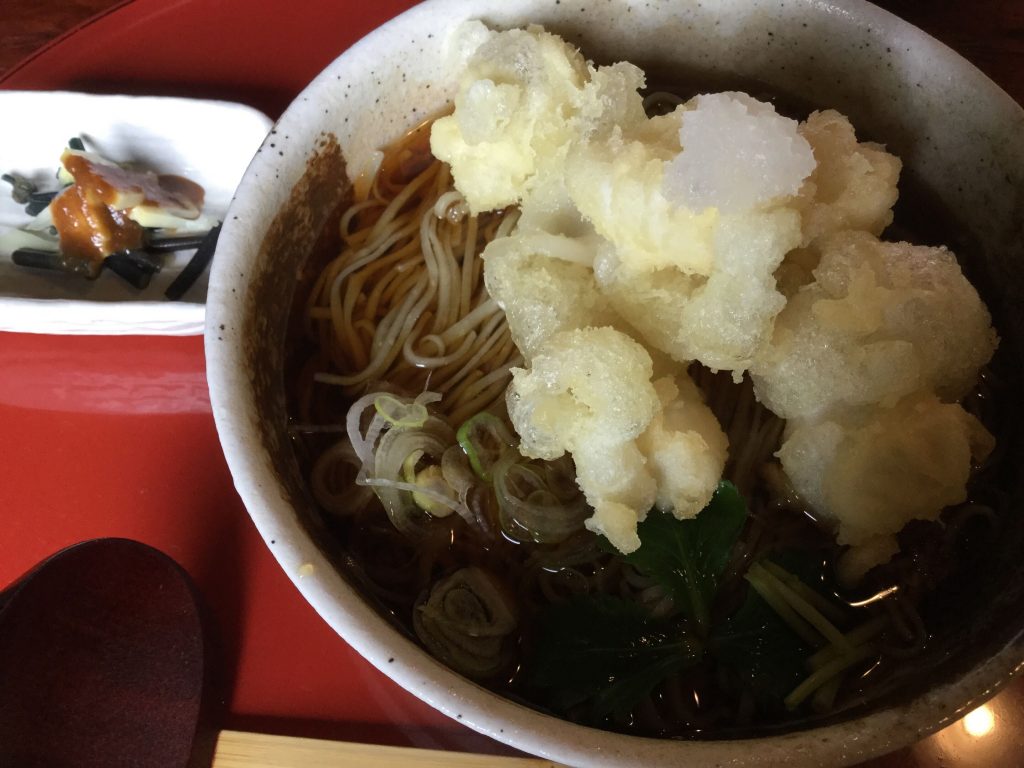 Mochiten-nose Niou Soba
As a side dish, you can order Tempura of season and sake produced in Yoshino. Besides it, they provide seasonal soba dishes such as green-tea-flavored soba noodle in summer, and soba/ramen using boar in winter.
The restaurant is a renovated folk house of Yoshino style, "Yoshino-date", which is an architecture of building houses in the mountain slope. Architecturally interesting.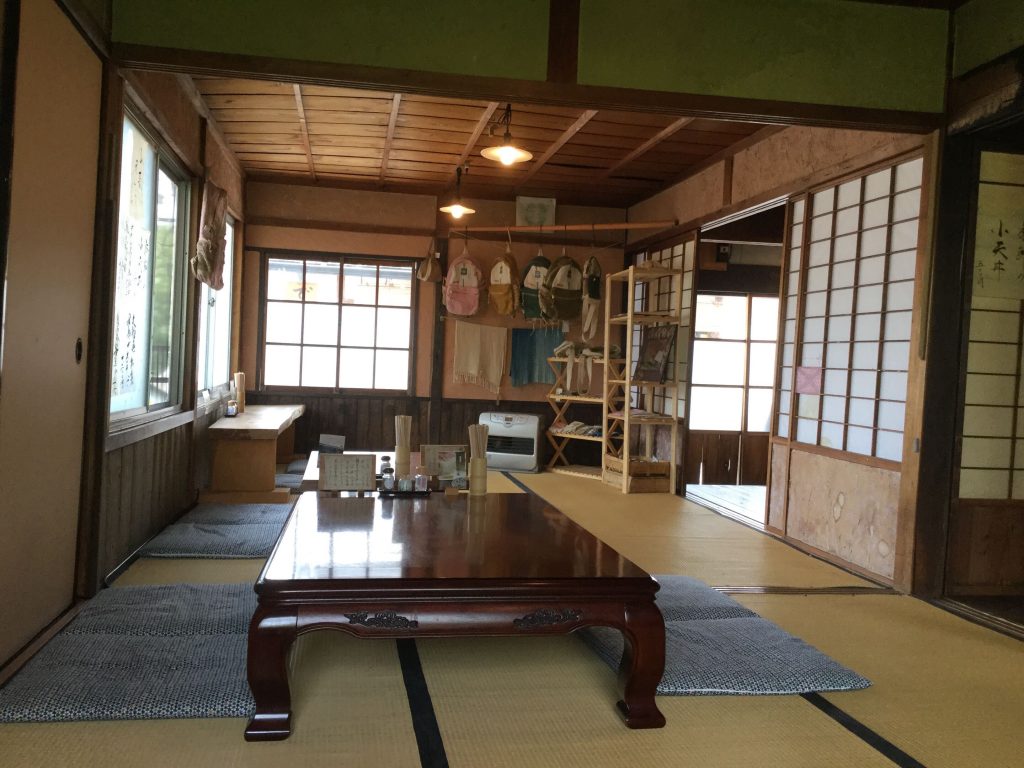 Yoshino is a good place for walking around the mountain. Spring is definitely a beautiful season but so many people visiting for cherry blossom. I recommend this fresh green season or autumn leaves season.
If you have a chance to visit Yoshino, don't forget to try Yamatoan's soba noodle!
Yamatoan
Address: 2296, Yoshinoyama, Yoshino-cho, Yoshino-gun, Nara Pref.
(75 minute drive away from Nara City)
Open: 11:00~17:00
Close: irregular holiday