Yoshinoyama, the ancient ridgeline temple district in southern Nara, is a place synonymous with cherry blossoms throughout the country of Japan. Every year around the end of March and start of April, people flock from near and far to see the thousand tree groves of this area burst into fluttering clouds of white and pink that follow the mountainside up into the backcountry. Even with all the fame surrounding this special spring event in Yoshinoyama, the roots of these cherry trees (no pun intended) are probably less well-known. In fact, these famous groves of Yoshinoyama are considered "shinboku," or sacred trees  and have been continuously planted around Yoshinoyama for centuries by beli1evers of a local faith known as Shugendo. To further elaborate, the cherry blossom trees are planted to honor the central deity of the Shugendo faith, Zao-gongen.
The term "gongen" refers to a Buddhist deity that has incarnated in the form of an indigenous Shinto kami.  Zao in this case is the name of the specific gongen deity who is believed to have appeared before the founder of Shugendo, a fellow by the name of En no Gyoja, around 1,300 years ago on a mountain not far from Yoshinoyama. After communing with the new deity, En no Gyoja carved the figure that he saw out of mountain cherry tree wood, which then became a holy symbol of the faith that was cultivated in Yoshinoyama over centuries of time.
Zao-gongen is the central deity of worship at Yoshinoyama's Kinpusen-ji Temple complex and its iconic, roughly 500-year-old main hall known as Zao-do. Every year from April 10-12, the local people of Yoshinoyama put on a special event known as "Hanaku Eshiki" or Flower Offering Ceremony to announce the opening of the beautiful cherry blossoms to the deity Zao-gongen, which culminates at Zao-do Hall. On the 11th and 12th, there are lively processions that kick off at Chikurin-in Ryokan and continue down the main street of Yoshinoyama towards Kinpusen-ji Temple. The community of both of modern times and the past are presented in the procession through local participants donning traditional clothing and performing different roles. Shugendo priests make up the bulk of the procession, with the top official of Kinpusen-ji Temple carried in a traditional style wooden kago or litter palanquin.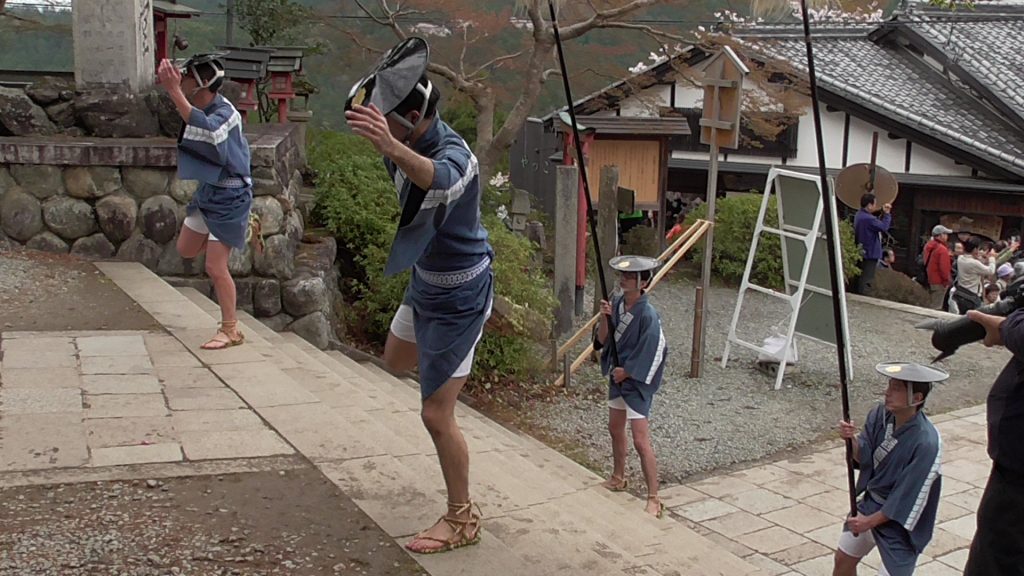 As mentioned before, the event begins at 10am in front of Chikurin-in Ryokan, and from there heads north. Visitors are allowed to stand alongside the street as the procession passes and take photographs and video.  After arriving at Kinpusen-ji Temple, there are follow-up events that are held, including a lively rice cake distributing ceremony (rice cakes first offered to Zao-gongen are then given to the community), and a large goma ceremony conducted by temple priests.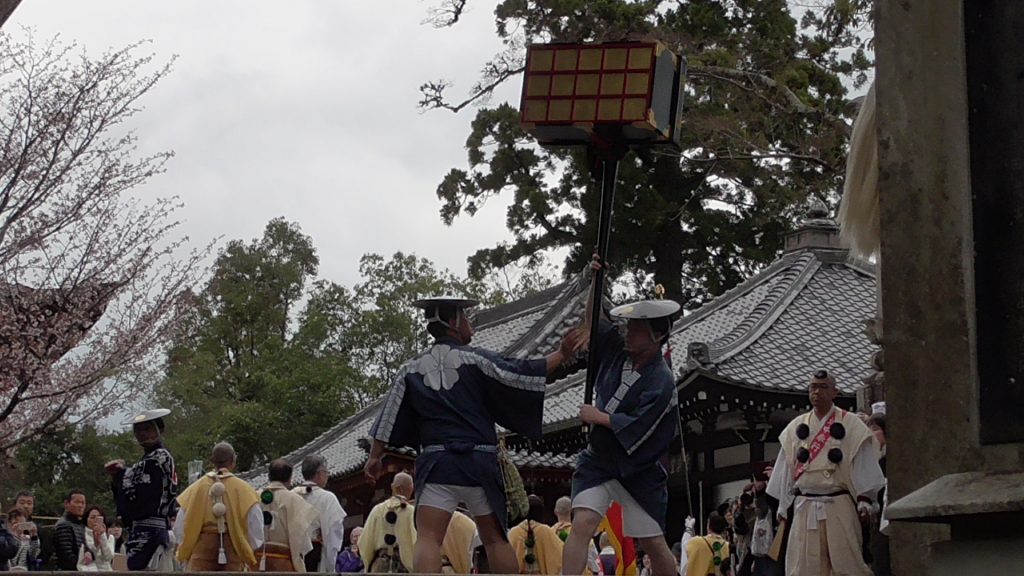 If you wish to get a good view of any of these events, it is wise to arrive somewhat early as the cherry blossoms always attract huge crowds which, on the busiest of days, turns the main street into something resembling downtown Tokyo during rush hour. Whether or not you catch the whole event, Hanaku Eshiki offers a great glimpse into some of the deep cultural history surrounding the thousand tree sakura groves of Yoshinoyama and therefore comes highly recommended for those who want to take a deeper dive into this amazing area.
Access:
Getting to Yoshinoyama is surprisingly easy because there is a train station (Yoshino Station) located just below the central ridgeline.
From Osaka City, you can catch a train at Osaka-Abenobashi Station that will take you directly to Yoshino Station without any transfers.
From Kyoto Station, it is only one transfer (at Kashiharajingu-mae Station).
From Nara Station, you will need to transfer 2 times (at Yamato-saidaiji & Kashiharajingu-mae Station).