The Uneme Festival is held every year on the day of the Harvest Moon in the area surrounding Sarusawa Pond.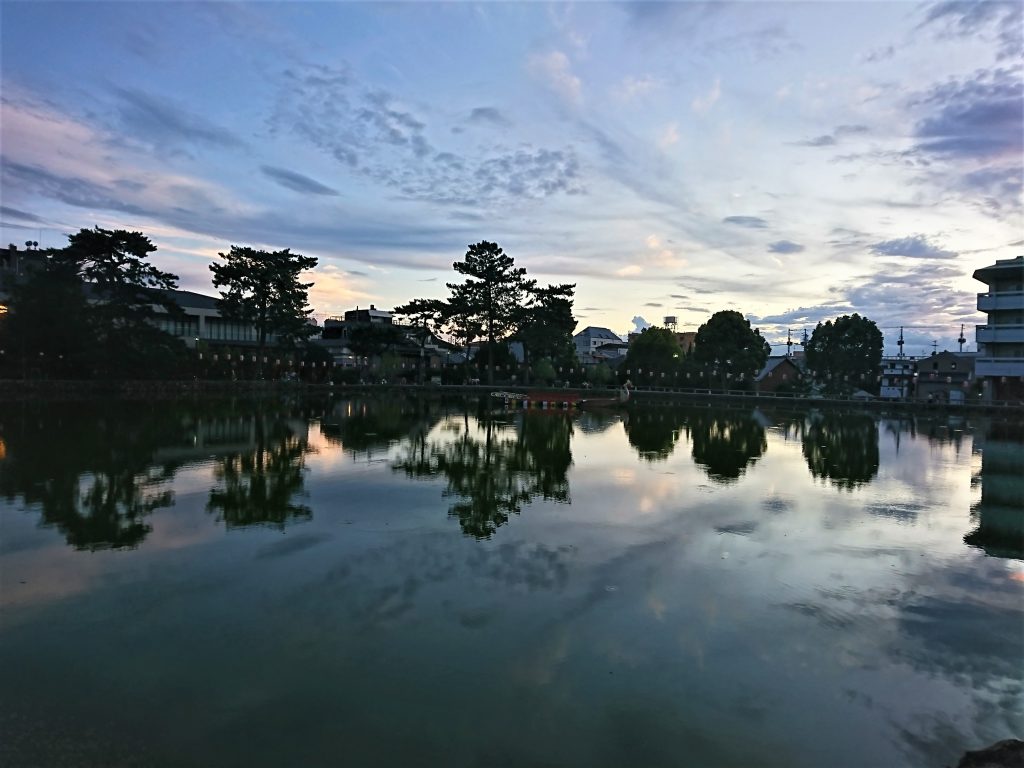 The Harvest Moon means the full moon that appears in the middle of autumn, said to be seen on the night of August 15th according to the lunar calendar, and is considered to be the most beautiful moon of the entire year.
According to the lunar calendar, January through March is spring, April through June is summer, July through September is autumn, and October through December is winter. Therefore, August is right in the middle of autumn, and August 15th is the Harvest Moon, which is also called the 15th Night.
Since the current solar calendar is about a month different, we refer to the full moon that occurs between September 7th and October 8th as the Harvest Moon, or 15th night.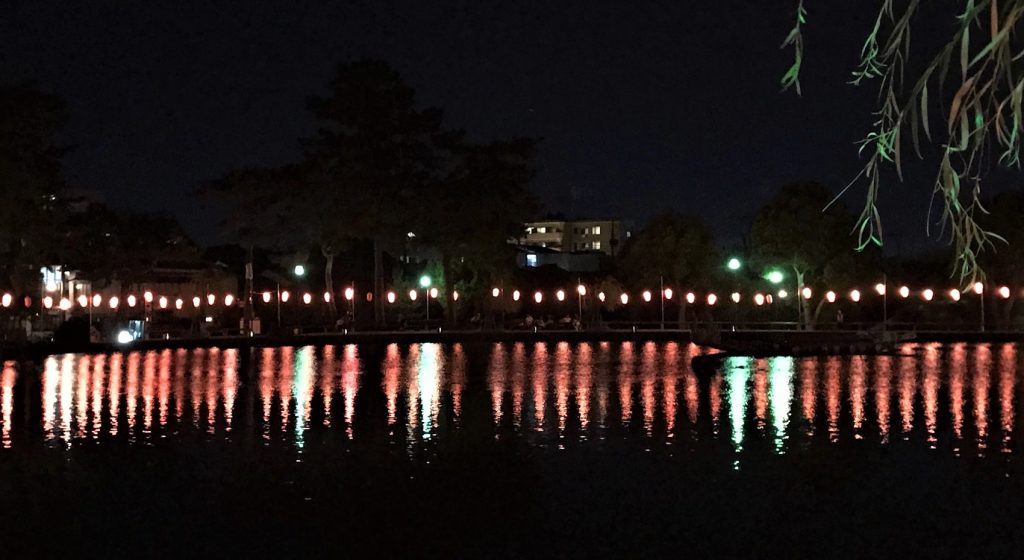 This year's Harvest Moon will be on September 13th.
In Japan there is the custom of making various offerings and praying to the moon, and also appreciating its beauty.

The Uneme Festival is an annual festival at Kasuga-taisha Shrine's subordinate shrine, Uneme-jinja Shrine, located northwest of Sarusawa Pond.
Having continued for approximately 600 years, this is a traditional event of Nara City.
In the Nara period (710-794), one of the Emperor's female pages (a position titled "uneme") who had received his affection felt grief that the Emperor's affection had faded, and threw herself into Sarusawa Pond. In the Heian period (794-1185), it was written in the Tale of Yamato (Yamato Monogatari) that Uneme-jinja Shrine was built in order to console her spirit, and today this festival is held during the Harvest Moon, the anniversary of her death.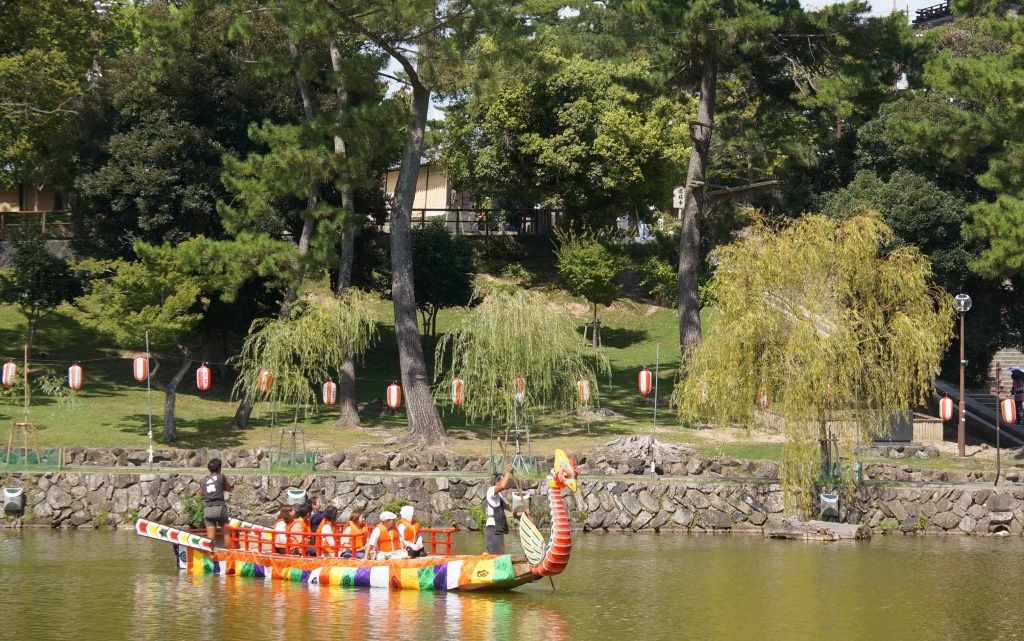 Starting at 5 p.m. is the procession of the flower fan offering, in which a two-meter-long flower fan and people wearing traditional tenpyo costumes make their way through the city.
At 6 p.m. is the festival at Uneme-jinja Shrine, at 7 p.m. they place the flower fan onto the kangen boat, which goes around the pond to the sounds of ancient court music, and finally floating the flower fan onto the pond to appease the spirit of the female page, while also praying for everyone's happiness.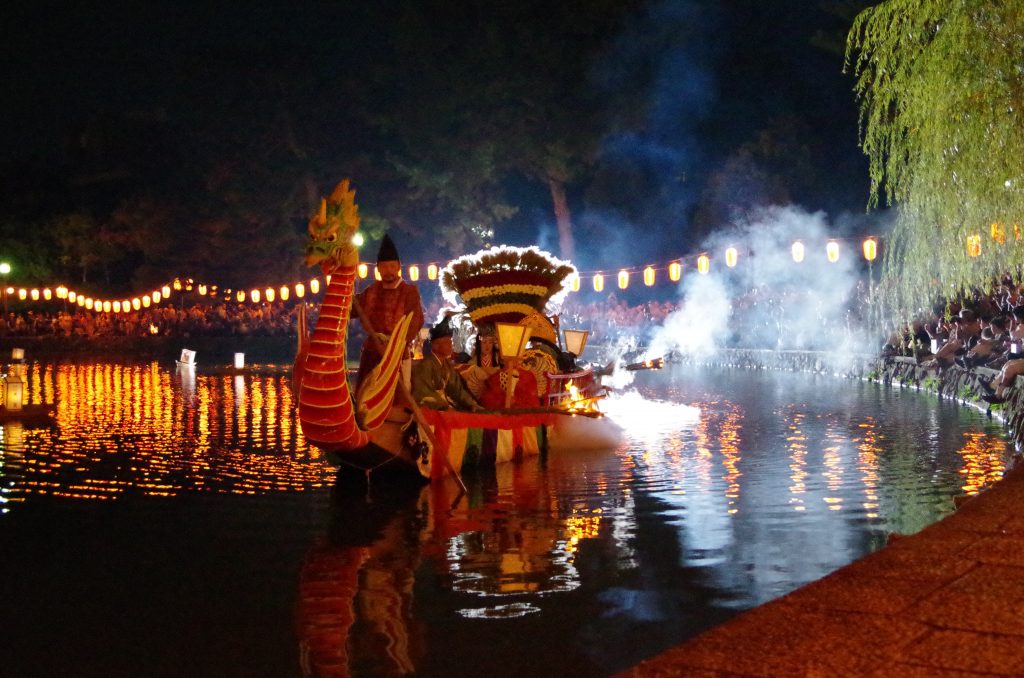 If you have the chance, please witness this autumn poem of Nara.