If you are considering coming to Nara Prefecture for your visit to Japan, but perhaps would like to go someplace outside of the usual itinerary, then Yoshinoyama (also called "Mt. Yoshino) might just be the right location for you. This ridgeline temple district located in the mountainous town of Yoshino features beautiful natural scenery, interesting historical sites, and a wide variety of shops and restuarants.
So what exactly is in Yoshinoyama that makes it worth the time to visit?  Please read on below to find out.
1. Cherry Blossom Trees
By far, the #1 thing  Yoshinoyama is most well known for is its huge groves of cherry blossom trees or "sakura" as they are called in the Japanese language.
4 groves in total can be found in the Yoshinoyama district: Lower ("Shimo-senbon"), Middle ("Naka-senbon"), Upper ("Kami-senbon"), and Deep (Oku-senbon), all located at different elevation and planted with the intention that they bloom in order  (from lowest point to highest) as the spring season progresses. In recent years, simultaneous blooming of the trees seems to be the more and more common occurrence. Folks travel from all around the country, and even the world, to come see the famous sakura blooming of Yoshinoyama, as it is considered the most beautiful spot for these blossoms in country and is also an important base for origin of the tree's reverence in Japanese culture. In the local Shugendo faith, these trees are actually considered "shinboku" god trees that are holy symbols of the mountain deity Zao-gongen.
The sakura blooming usually begins around the end of March / start of April and peaks around April 10th, however it changes, sometimes drastically, year-to-year. Checking official sakura blooming forecasts is highly recommended if you are planning a trip to Yoshinoyama for such a purpose. You should also be prepared to brave the tourist crowds to get a glimpse of the beauty that draws everyone here.  This means you shouldn't take for granted that you will be able to find a place to sit down for lunch or find overnight accommodation; crowds come with the territory when it comes to popular locations and events in Japan.  However, once the sakura bloom is over and the crowds leave, there are plenty of other reasons to visit Yoshinoyama.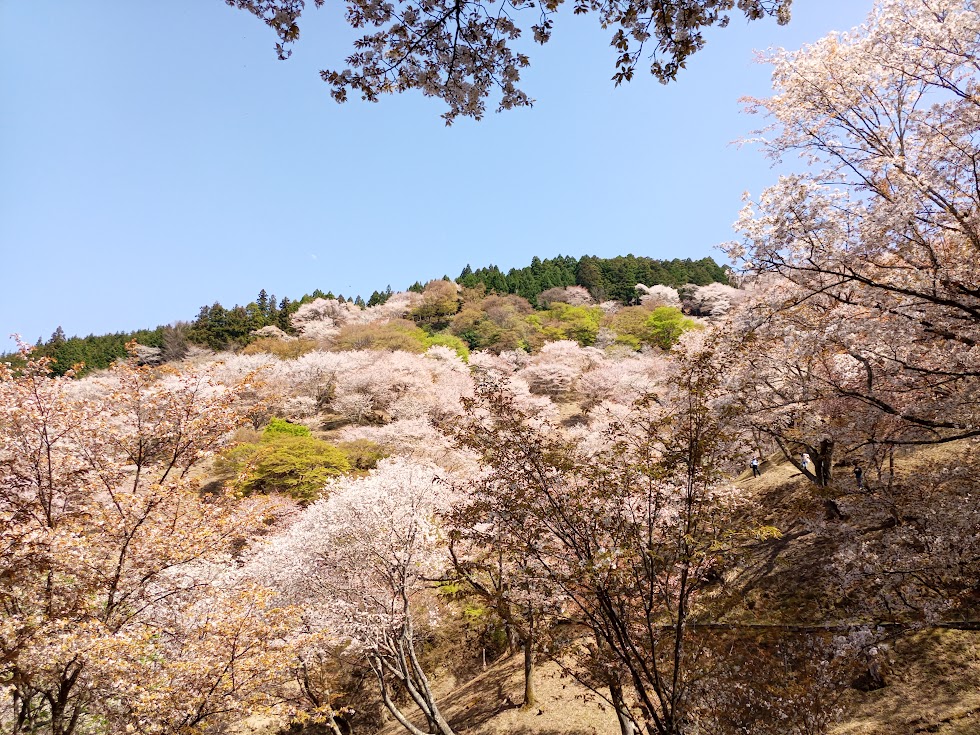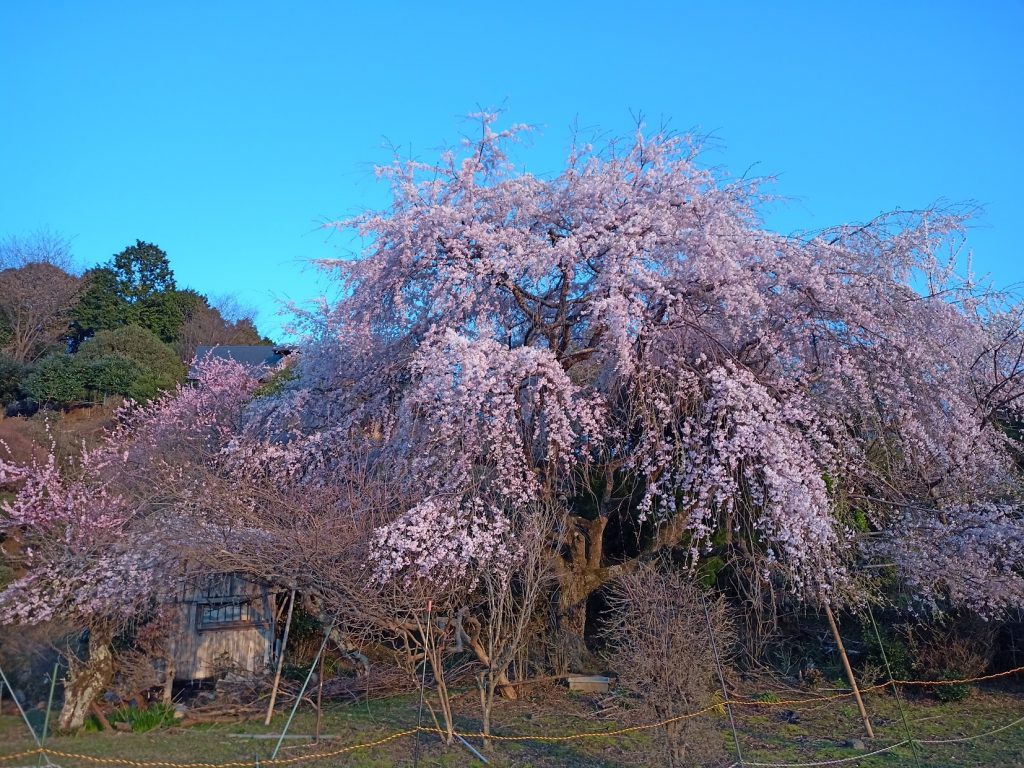 2. The great outdoors
Yoshinoyama is probably the best location you can reach by train for hiking in the southern mountains of Nara. Surrounded by forest and seemingly endless ridgelines of steep mountains, Yoshino is a great place to spend some time exploring the great outdoors.  Walking the paved main street of Yoshinoyama from Yoshino Train Station to the highest point in the back country is roughly 7KM (4.3 miles) in distance and is a little over 500 meters in elevation gain. There are also unpaved trails you can find here, such as the route that takes you past Nyorin-ji Temple and up to the Yoshino Mikumari Shrine, or alternatively down to the beautiful Takataki Waterfall of Kisadani Valley.
The most famous hiking route from Yoshinoyama is one with roots in outdoor recreation but in pilgrimage: the Omine-Okugake Pilgrimage Path, which is the longest and most challenging of the pilgrimage routes in the Kii Peninsula. Technically starting at the Yoshino River, this route runs through Yoshinoyama and follows the great Omine ridgeline, running around 100KM  (62.1 miles) to the south over some of the most rugged terrain in the country. It has only been in recent times that  information about this route has become more easily accessible, including locations to stay the night and so on.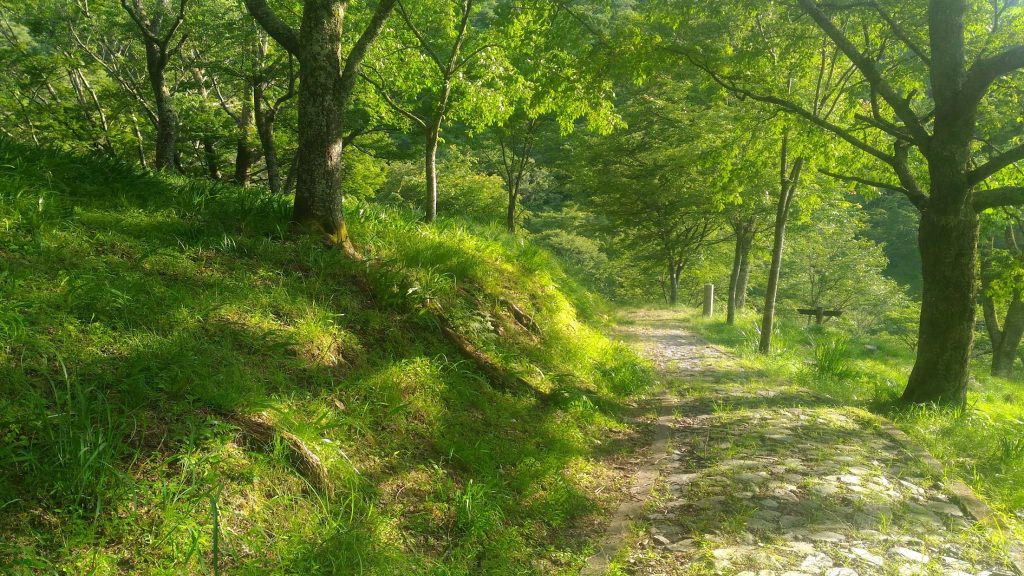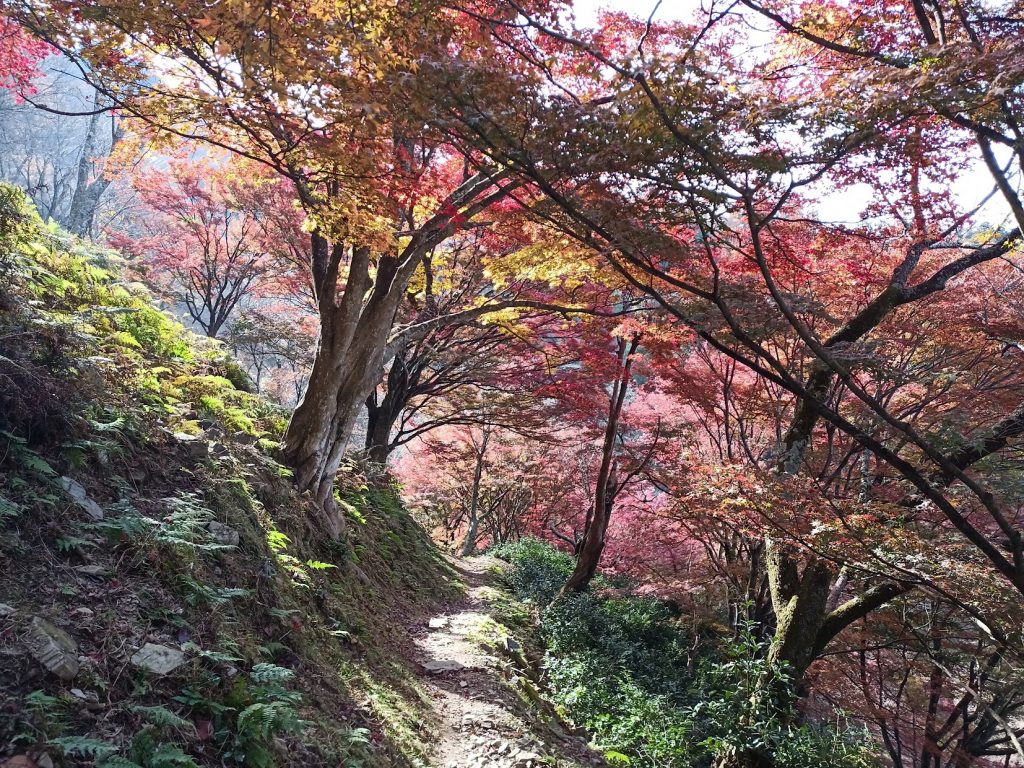 3. Restaurants, Shops and Overnight Accommodation
Besides being a temple district, Yoshinoyama also has a number of traditional inns (called "ryokan"), a number of shops that sell local goods, and great dining options.  Talking local cuisine, Yoshino is especially famous for persimmon leaf-wrapped sushi and kudzu-based products.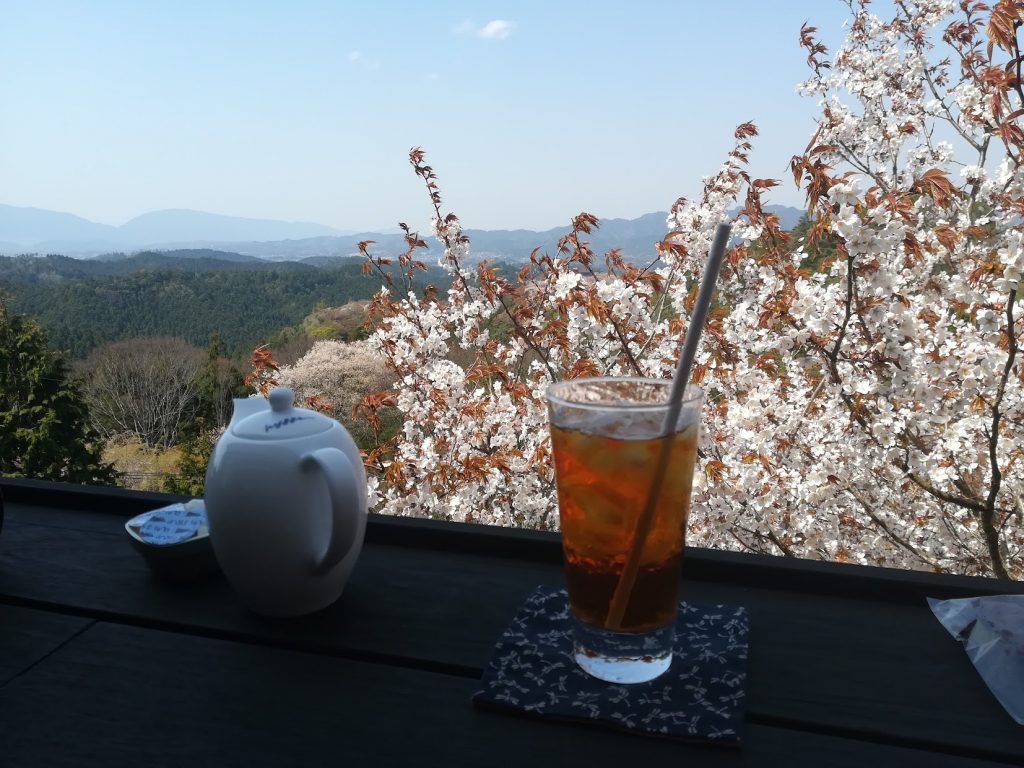 Persimmon leaf sushi is perhaps the most famous product that originated in Yoshino. Folks living in this area, living far from the sea, created a way to eat raw fish, specially preserved with salt that is then placed on a loaf of rice flavored with vinegar and finally wrapped in locally grown persimmon leaves. The persimmon leaf is said to posses natural antibacterial qualities that helps to preserve the fish, making it a great food to take on the go. Typically, this sushi is available in both mackerel and salmon varieties at the various stores that specialize in its production in the Yoshinoyama area.
Kudzu is a type of vine plant whose roots can be harvested, turned into a starch, and then used for a variety of different foods. Kudzu products sold in Yoshino include packaged sweets, noodles, and freshly made sliced jelly variations.
4. Learn about Shugendo.
Shugendo is an indigenous faith to Japan that is believed to have been started in the mountains of Yoshino around 1,300 years ago. Included in Shugendo is an emphasis on doing difficult training in the mountains to build spiritual power and reach a state of enlightenment. Yoshinoyama has long been a base for Shugendo, centered around Kinpusen-ji Temple, which is said to have been established by the founder of Shugendo himself, En no Gyoja.
There are a number of sacred sites associated with Shugendo that you can visit in Yoshinoyama, including Kinpusen-ji Temple's impressive Zao-do Hall.
The Omine-okugake Pilgrimage Route is frequently used by practitioners during the warmer months of the year, and the distinct bellows of their ritual conch shell horns can be heard throughout the district on a daily basis.
You can visit the various historical sites associated with this ancient religion, and see first-hand many works of art that have been presevered through the ages and are now on display. In fact, it is fair to say that the entire temple district is a historical museum for one of Japan's most unique religious traditions.
Access:
Besides the above list, there are many other good reasons to visit Yoshinoyama and also the surrounding town of Yoshino. Luckily, access to this area is not difficult because there is a train line that runs from Yoshino Station (at the base of Yoshinoyama), all the way to Osaka-Abenobashi Station in Osaka City with no transfers required.
Getting here from Nara City or Kyoto in the north is not difficult, but will require a couple transfers.  The plus side is that the ride features nice scenery as it takes you through the beautiful countryside of the Nara Basin and the southern mountains.
For any questions on how to access Yoshinoyama or guiding services, please feel free to contact us here anytime at Kansai Treasure Travel.