Given that the storehouse on the grounds of Nara's Todaiji temple contains around nine thousand objects from which some sixty are selected for the yearly autumnal exhibition at Nara National Museum, it's not an exaggeration to say that viewing the show is always a once-in-a-lifetime opportunity for the visitor and that selection of the artefacts is just as rare and privileged an experience for the curators. This is no ordinary exhibition. The massive repository – constructed in the eighth century – is itself a dream for the lover of museum, archive or library, its exclusivity only adding to its allure. But the exclusivity is a means of preservation: the Shoso-in holds a vast number of items that were made around 1300 years ago, many of them in almost pristine condition which is testament to the care with which they have been preserved and the conservation efforts and policies practiced to maintain their condition.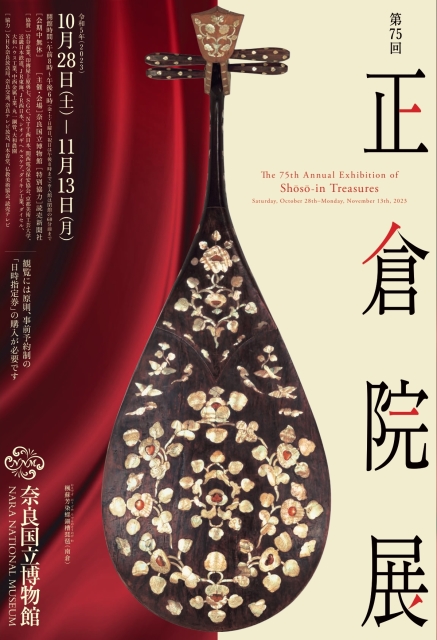 The items stored here are treasures that were used in an elaborate 752 ceremony for the consecration of the Great Buddha at Todaiji which functioned as a grand visual and performative declaration of realm-wide Buddhist peace under the leadership of Emperor Shomu. There are also a great many items presented to Emperor Shomu and his eighth century court by local tributaries and by visitors from the continent, or personal items made for the imperial family which were later dedicated to the Great Buddha of Todaiji, along with documents and objects related to the construction of Todaiji itself. Shomu was the first emperor of Japan to become a Buddhist monk but the extravagant consecration ceremony was also undoubtedly a proclamation of the power and wealth of the ruler of the realm. Since many objects were offerings to the Great Buddha itself,  a special ritual attended by museum curators and staff is performed at Todaiji previous to the opening of the Shoso-in exhibition as a way of requesting permission from the Great Buddha to use the items. As such, the exhibition itself is distinct in terms of its history and its particular curatorial procedures. It is also Nara National Museum's biggest show, attracting up to and often in excess of 14,000 visitors per day.
This year's exhibition displays 59 objects, many of them Buddhist, others "secular", and others that combine the two categories. They include a monastic surplice possessed by Emperor Shomu himself, octagonal mirrors, decorative court dance apparel, an embroidered and dyed belt, unusual cloth masks for dance performances, tables used for sacred offerings, Buddhist banners and other gorgeous fabrics (such as canopies) that adorned temple interior and exteriors, Chinese glaze-inspired ceramic bowls, exquisitely-penned sutra commentaries, official documents of accounting, tax registration, and building construction, boxes, beads, and offering tables. All are fascinating, and the variety on display is highly engaging, but perhaps among the stand-out exhibits this time are an intriguing biwa lute, an exquisite mirror, and the less eye-catching but recently-reconstructed palace-shaped small zushi shrine. Such zushi from this period are extremely rare, and the door panels are a particular treat, showing in faint delineation and T'ang Dynasty style, fierce guardian figures, a standing woman, and a monk  – possibly the historical monk-translator Xuanzang, whose presence has contributed to the theory that this zushi once contained scrolls of his Chinese translations of the Great Perfection of Wisdom Sutra.
A stunning eighth century biwa lute may still command the greatest interest for viewers, and accordingly adorns the catalogue cover. Despite the Chinese-style painting affixed to its front, this lovely Persian instrument was likely made in Japan, as suggested by certain pigment employed and by the use of abalone shell as mother-of-pearl inlay (rather than great green turbo shell) which decorates its back and sides. Raden, mother-of-pearl decoration, was a prized technique for inlay and was used in valuable lacquerware and wood pieces, giving, as demonstrated on this biwa, a lustrous, jewel-like radiance. As here, it is (characteristically) contained within precisely cut motifs which are arranged into charming patterns that control the gradations of shimmering colour. These motifs and techniques have been continued quite faithfully up to the present day and the lacquerware created that employ them is known as "Nara Shikki". The biwa is made of boxwood, as well as maplewood stained with sappanwood juice which, making it appear like red sandalwood, also suggests a Japanese origin. Amber, tortoiseshell, and pigments are used to render the flower, bird, butterfly and tiny cloud motifs popular at the time.
Of these, the hosoge flower is a fantastical one that combines peony, lotus, and pomegranate and speaks of the journey of artistic decoration from India through China to Japan. The instrument's plectrum guard which is made of leather and painted with a naturalistic scene reminiscent of T'ang Dynasty subject and style presents another element of mystery as to its origins, and reminds one of the blending of artistic and musical cultures that travel and trade along the Silk Road routes of this time naturally produced. And the depiction of men playing musical instruments while mounted on an auspicious white elephant (with a hosoge-decorated saddle and reins) that serves as their vehicle through a craggy mountain-scape evokes the journeys that many of these objects (or their inspirations) took along the Silk Road routes. The merry music-playing travelers likewise cleverly evoke accompaniment to the biwa. Sounds of softly plucked strings float unobtrusively over this section of the exhibition space, satisfying the viewers' possible imaginative reconstruction of the once-upon-a-time use of this instrument in the court of Shomu.
Another notable object on display this year is an equally famous bronze mirror, the reverse of which is inlaid with mother-of-pearl, little shapes cut from great green turbo shell and the crimson amber found on the biwa, along with tiny scatterings of turquoise. There is an alternation of delicacy and boldness in the floral elements, yet all are arranged in an orderly series of concentric circles, ever larger as they reach the rim of the mirror. The piece, which has been determined to have originated in T'ang Dynasty China, shimmers almost as brightly today as it must have done when first introduced to the court at Nara. Meanwhile, a marvelous monastic sceptre made of rhinoceros horn (a rare material which was also used for a delicate, pinkish-brown cup on display) is studded with tiny flowers made of coloured glass, crystal, and gemstones while bright blue lapis lazuli forms the base of its handle. Used during Buddhist sermons, this piece, which has its own lacquered box, reflects the wealthy patronage of Nara period Buddhism at Todaiji, but also well conveys the combination of bold shape and delicacy of design characteristic of the period's high aesthetics – and of the grandeur of Buddhism itself as understood and promoted by Emperor Shomu. Buddhism in Japan went on to develop a complex network of lineages, doctrines, and aesthetics. The Shoso-in exhibition reveals through material culture one of its earliest, and most resplendent, incarnations.
Given the vast number of attendees each day the museum opens at eight in the morning for the duration of the exhibition (an hour earlier than normal) and, once inside, many visitors take monoculars (art-scopes) to allow closer looks at the details of the pieces.
When: Saturday, October 28th–Monday, November 13th, 2023, 8:00 A.M. to 6:00 P.M., and until 8:00 P.M. on Fridays, Saturdays, Sundays, and Holidays
Where: The East and West New Wings of the Nara National Museum
Tickets: Please note that all tickets are timed-entry. They are not available from the Nara National Museum ticket window and must be purchased before arrival. Please see the Nara National Museum website for details regarding ticket purchase here.