This blog post will briefly discuss the Japanese wolf (aka "Honshu wolf"), a species that once could be found throughout the islands of Japan.
In Japanese culture, wild animals have long been respected as beings that can possess great power and wisdom that humans can learn a lot from. Furthermore, throughout the ages there has been a plethora of folktales and literature that includes animals as important characters, some possessing great magic-like abilities that have been used both to benefit and harm humans in a variety of ways, reflecting our complex relationship with the natural world. Indeed, wildlife has had great influence on shaping Japanese culture and can be seen just about everywhere, even in modern day society, from the koma-inu at Shinto shrines, to the cute maneki-neko cats that are thought to increase customer traffic.
The Japanese wolf  (known as "ookami" in Japanese ) once roamed the Japanese countryside as one of the archipelago's few large wild predators, but tragically went extinct in the early 20th century due to introduction of diseases such as rabies and a policy of aggressive hunting during the Meiji period. However, there are those who believe it is still around, in the most remote forested and mountainous areas in the country, and it just so happens that the village of Higashiyoshino, located in Nara Prefecture, fits this description; it was also the location where the last known Japanese wolf was sighted and captured over a century ago.
The wolf that lived in Honshu, Shikoku, and Kyushu (distinct from a different species that once lived on the northern island of Hokkaido) was actually quite an unusual animal for its time, perhaps being more closely related to the domesticated dog than any other modern-day wolf species. Although it is now believed extinct, there are apparently DNA links in modern-day Japanese dog species to the Japanese wolf.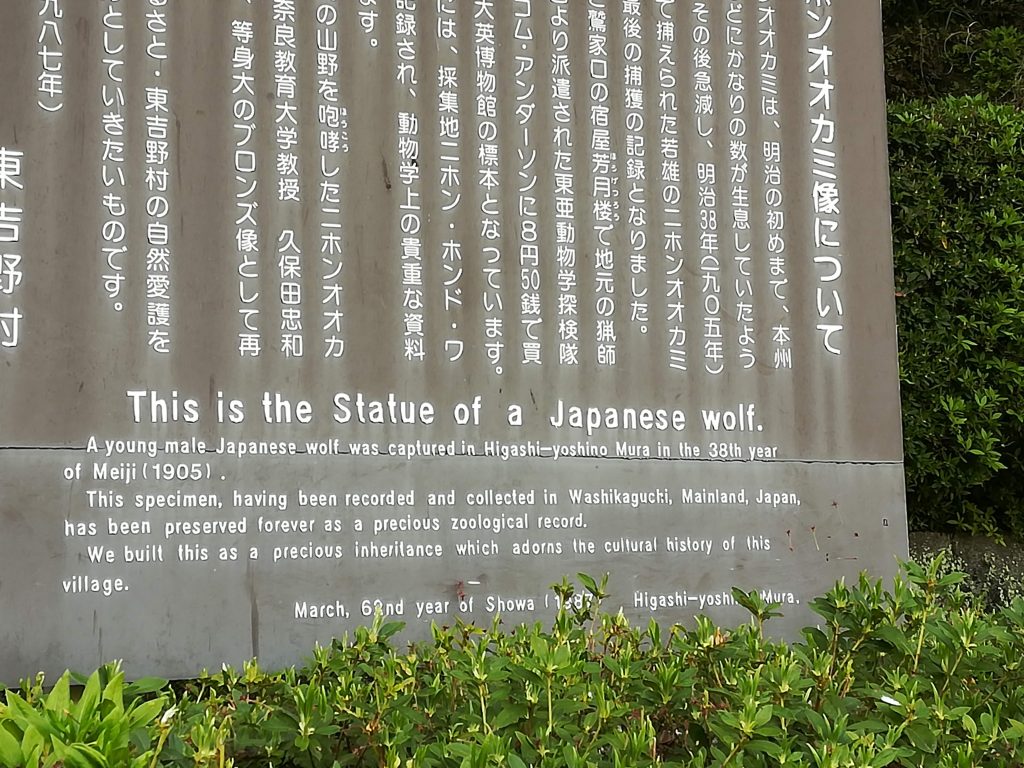 Sacred Protectors
Wolves were long held as sacred animals in Japan, and they were even worshiped as mountain deities or "yama no kami"  that could protect people's homes, crops, and by extension, from such things as theft and fires. Wild boar, deer, and even monkeys are all animals known to wreak havoc on cropland, so it makes sense that the wolf as their natural predator would come to be revered as a protector. Skulls of wolves were sometimes even used in exorcism rituals to drive out hostile spirits, such as that of a trickster fox.
As mentioned previously, there are still those who believe that the Japanese wolf is around, and If one searches online for Japanese wolf sightings, they will probably find a variety of news articles and scholarly research on the topic.  Many of these sightings have been recorded to have occurred in the Kii Peninsula, of which the southern mountains of Nara make up a vast part of.  Though an extremely rugged area with a lot of places to hide, its existence still seems unlikely given the fact  that the wolf was a pack animal that lived in the beech forests that have mostly been wiped out and replaced with cedar and cypress woodland.
All that being said, if you should find yourself isolated in the rugged mountains of Highashiyoshino, the sacred land of the gods, far away from civilization with only the sound of wild things around you, it is easy to imagine a hidden wolf watching you from the brush; after all, even if its gone, this landscape has been its home since a time far beyond living memory.  And regardless of whether or not the sightings of the Japanese wolf are accurate, it still clearly lives on as an important figure in the Japanese cultural landscape.
Access
If you wish to visit the Japanese wolf memorial statue in Highashiyoshino, you will likely need a car or a decent bicycle as the this village is fairly isolated and has no train access. It does make for a beautiful area to visit in general for those interested in seeing the deep countryside of Japan.