The mountain temple district of Yoshinoyama (aka "Mt. Yoshino"), located in the southern mountains of Nara Prefecture, is renowned for its countless cherry blossom trees that explode into beautiful shades of pink and white every spring, drawing in multitudes of visitors from all around the world to this normally quiet corner of Japan.  The cherry blossom trees (called "sakura" in Japanese), are planted at different levels of elevation, which gradually lead deeper into the mountains. In a standard weather year, these trees are expected to blossom in order, from the lowest point to highest as the spring season progresses, though in recent times it seems to be common for most of the trees to blossom at the same time around the end of March / start of April.
Along with the beautiful natural scenery, visitors can enjoy exploring an ancient temple district where many small shops and restaurants also operate. Famous traditional foods of Yoshino include persimmon leaf sushi, products made from kuzu (arrowroot) flour, and sansai mountain vegetables.
Best Spots for Sakura Viewing 
The "best" (most famous) locations for viewing sakura in Yoshinoyama are the Yoshimizu Shrine (for a view looking up the mountainside) and Hanayagura (for a view looking down over the ridgeline of the temple district). The easiest of these 2 to access is the Yoshimizu Shrine, which is about 1.8KM (1.1 miles) on foot from Yoshino Station.  It is also the most crowded area of the district during blossoming season as it is right smack in the middle of the central shopping area.  Hanayagura, on the other hand, is a much longer walk uphill, but is arguably the better spot, with views of not only Yoshinoyama, but the surrounding landscape and even downtown Osaka far in the distance on a clear day. The easiest option for reaching Hanayagura during the sakura season is by shuttle from Chikurin-in-mae Bus Station (located next to the Koyama Shrine), which will take you to around the highest point in the district, from where you will need to walk down to get to the viewpoint, or you can walk directly from the station (roughly 4 KM / 2.5 miles) .
Ancient Links with Indigenous Faith 
Another season attraction, usually lasting through the month of April, is the opening of the doors which cover the 3 famous statues of the deity Zao-gongen within Kinpusen-ji Temple's Zao-do Hall. These giant statues, which have a photo prohibition on them, are said to date back to when Zao-do Hall was built near the end of the 16th century. They are visually striking for the fact that their original coloring is well-preserved; the deity's unusual blue-colored skin, implying deep compassion, contrasts with his halo of flame and his fearsome expression.  See Kinpusen-ji's official site for some pictures here:  here: https://www.kinpusen.or.jp/about/
The statues of Zao-gongen ("gongen" meaning a Buddha in the form of a indigenous nature god) also have crucial historical links to Yoshinoyama's culture of raising sakura trees. The famous mountain ascetic En no Gyoja, a founding figure of the local Shugendo faith who was active around 1,300 years ago, was said to have witnessed the first appearance of Zao-gongen in the mountains of southern Nara. After this event, he carved the deity's likeness out of cherry wood and taught others about his experience, founding Kinpusen-ji Temple in Yoshinoyama. The cherry tree then became a holy symbol of Zao-gongen and the tradition of planting and raising sakura around Yoshino was born. Being able to see these statues during this limited-time period makes for another great reason to visit Yoshinoyama during blossoming of the sakura.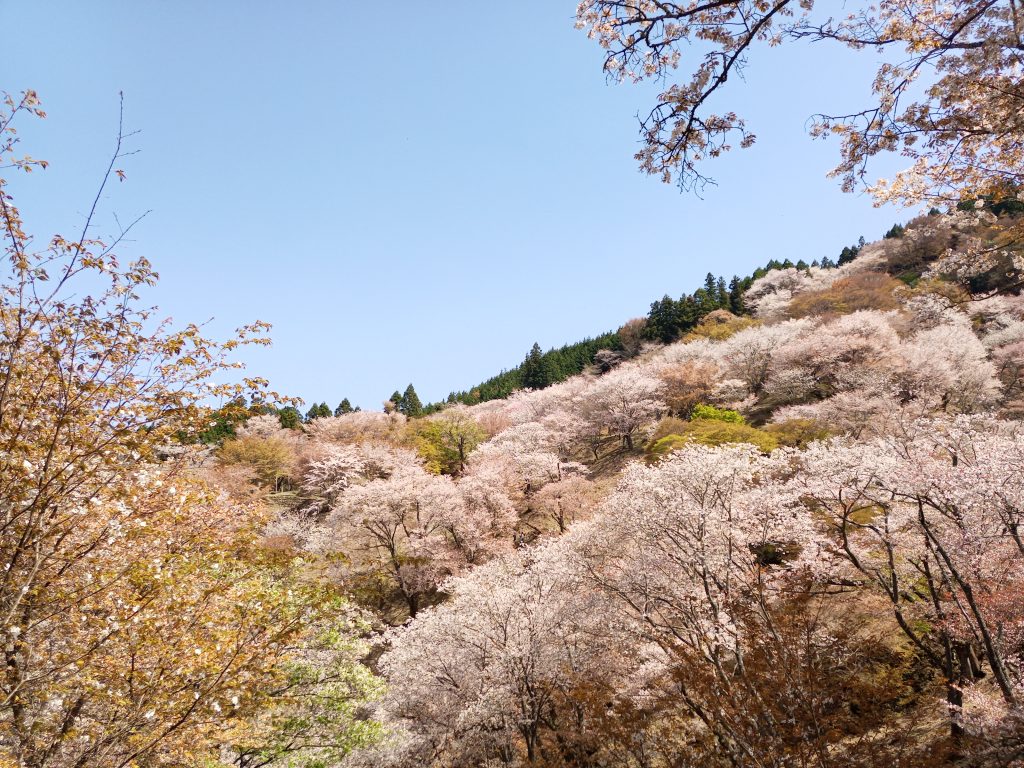 Other Sightseeing Locations Worth a Visit
Yoshinono Mikumari Shrine – Believed to be the home of a goddess who has power over water distribution and safe childbirth. This shrine complex includes a stage for performances and a main hall that dates back to the Muromachi period (1392 – 1573 CE).  The famous historical figure Toyotomi Hideyoshi (the guy who built Osaka Castle) also is recorded to have visited this shrine to pray for a son. Years later Hideyoshi's son, Hideyori, would visit the shrine and donate two large mikoshi palanquins that can still be seen here by visitors.
Noten Okami Shrine – Hidden at the bottom of a forested valley to the southwest of Kinpusen-ji Temple, this shrine is typically visited by those wishing to address issues of the mind. The long winding staircase which connects this shrine to the Kinpusen-ji temple complex on the ridgeline is said to have been traditionally used as a training course for female practitioners of Shugendo.
Taka-taki Waterfall – Meaning "High waterfall," Takataki falls can be access via a hike down into Kisadani Valley from Yoshinoyama. The trail can be a bit tricky to find, but there are signs (follow the path towards "Miyataki") that mark the way and for your efforts you will be rewarded with beautiful forest scenery that was written about in Japan's oldest collection of poetry, the Man'yo-shu. This hike could also provide a welcome reprieve from the crowds during sakura season. Legends say that the famous samurai, Minamoto no Yoshitsune, also visited this waterfall to wash his horse, as is depicted in a famous Ukio painting here: (https://ukiyoe.org/image/honolulu/6001)
Besides what is discussed above, there are many interesting things to do and see during the sakura season in the ancient temple district of Yoshinoyama. Please contact us here directly at Kansai Nara Treasure Travel for more information or to arrange a tour.
Access: 
Yoshinoyama (Mt. Yoshino) can thankfully be accessed easily by train via Yoshino Station (on the Kintetsu Yoshino Line). There is a direct train that runs from Osaka-Abenobashi Station that requires no transfers. During the cherry blossom season, these trains will surely be quite crowded, so it is recommended that visitors should arrive very early or later in the day to avoid the worst of the crowds. If you don't want to make the climb uphill into the district on foot, there are buses that depart regularly (only during the cherry blossom season) from Yoshino station to the Naka-senbon Grove (middle elevation) area of Yoshinoyama, and shuttles that depart regularly from Chikurin-in-mae Bus Station to Oku-senbon Grove (highest elevation).