Sisyu is an acclaimed Japanese calligraphic artist from Nara who has taken her ink mastery beyond the conventional and into the media of paint, sculpture, and even glass. She has created three-dimensional calligraphic characters, worked with light and shadow, rendered in coloured ink the kanji words for emotions represented in Pixar's Inside Out, and performed live painting. She has been exhibited throughout Asia, North America, and Europe and her work has also been made for and exhibited at Nara's Kasuga Grand Shrine (Kasuga Taisha) and Todaiji Temple, two of the oldest and most powerful religious sites in Japan. On October 21st at Kinpusen-ji temple in Yoshino, one of Sisyu's artworks – a series of Buddhist hells, Jigoku ezu: Four Hells – will be ceremonially burned to ashes.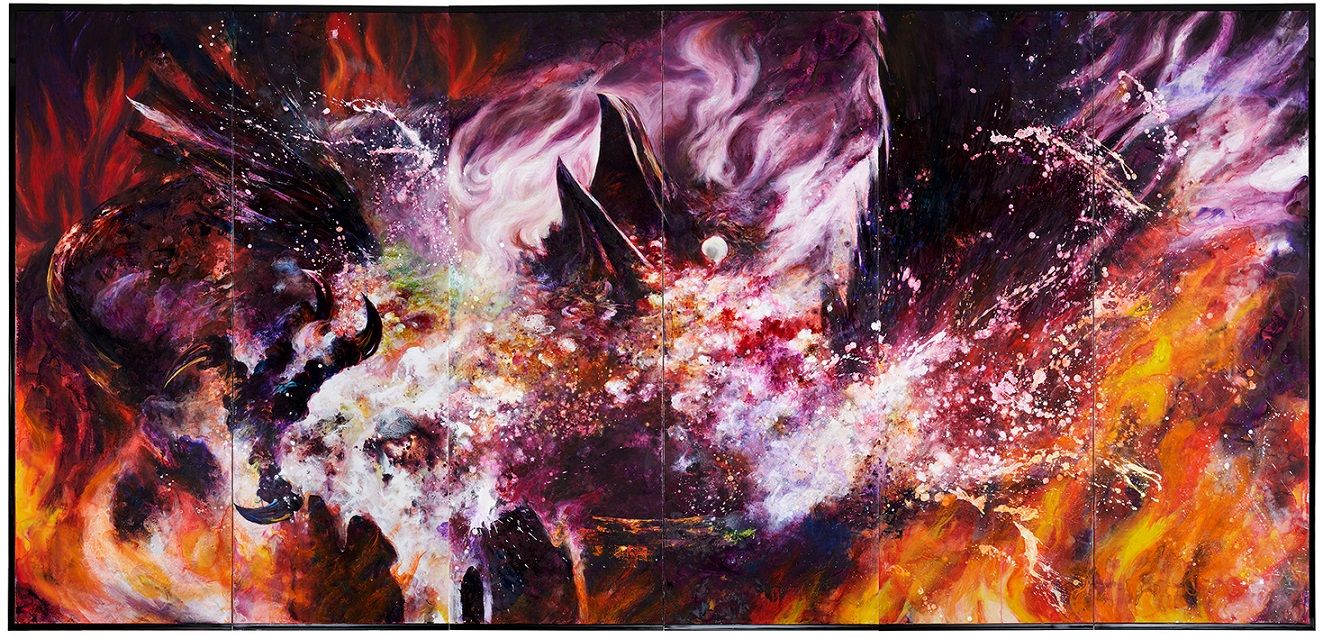 Kinpusenji is a UNESCO World Heritage Site, and is situated in an area of Nara famed for its glorious clouds of cherry-blossoms in the spring and its stunning mountains. But it is also known as an ancient stronghold of Japan's unique religious practices of Shugendo, which blends shamanistic mountain-based practices and gods with tantric Buddhism and that had active devotees several centuries before tantric Buddhist established official temples in the region. Its construction is attributed to the legendary founder of Shugendo, En-no-gyoja, who established it in the seventh century as a place to enshrine Kongo Zao Gongen, the ferocious object of worship among Shugendo practitioners. A central practice of both tantrism and Shugendo is the goma fire ritual, which will for (perhaps) the first time involve the immolation of a work of art. But even as it is not out of place in Sisyu's own inventive and performative oeuvre this is not the only unprecedented event to be taking place on October 21st at Kinpusenji.
Prior to the fire ritual, the artist digitized and minted her artworks as NFTs. NFTs are "Non-Fungible Tokens" that can represent objects, experiences, music – practically anything – and are digital records that verify by blockchain technology their authenticity, provenance, and ownership . Buddhist art in this form may well be the first of its kind, even though the game and manga markets as well that those of other kinds of arts have been active in this area for the past few years in Japan. Other artworks in Japan have utilized NFTs as a form of registry (authentication and provenance are accessible, for example, via a smartphone-readable IC tag) but remain as physical objects (such as prints from the hugely popular manga series One Piece) while others have been made solely for the metaverse – one of these is CloneX by Takashi Murakami and RTFKT Studios, a fully digital work of art. But Sisyu's art, in contrast, is to be transferred into the digital realm, its original completely erased from existence, much like the fate of the screenprint Morons (White) by British artist Banksy that was digitized then entirely burnt by its buyer and subsequently sold through NFT technology. Razed by cigarette lighter, its end was perhaps more ignominious than an artwork extinguished in a ritual ceremony but Buddhist philosophers will find much to muse on here regarding the ontology of art, and in addition to this novel aspect, the October 21st event brings two ancient Buddhist traditions together: that of the goma fire ritual, and that of the genre of Buddhist Hell paintings (Jigoku-e).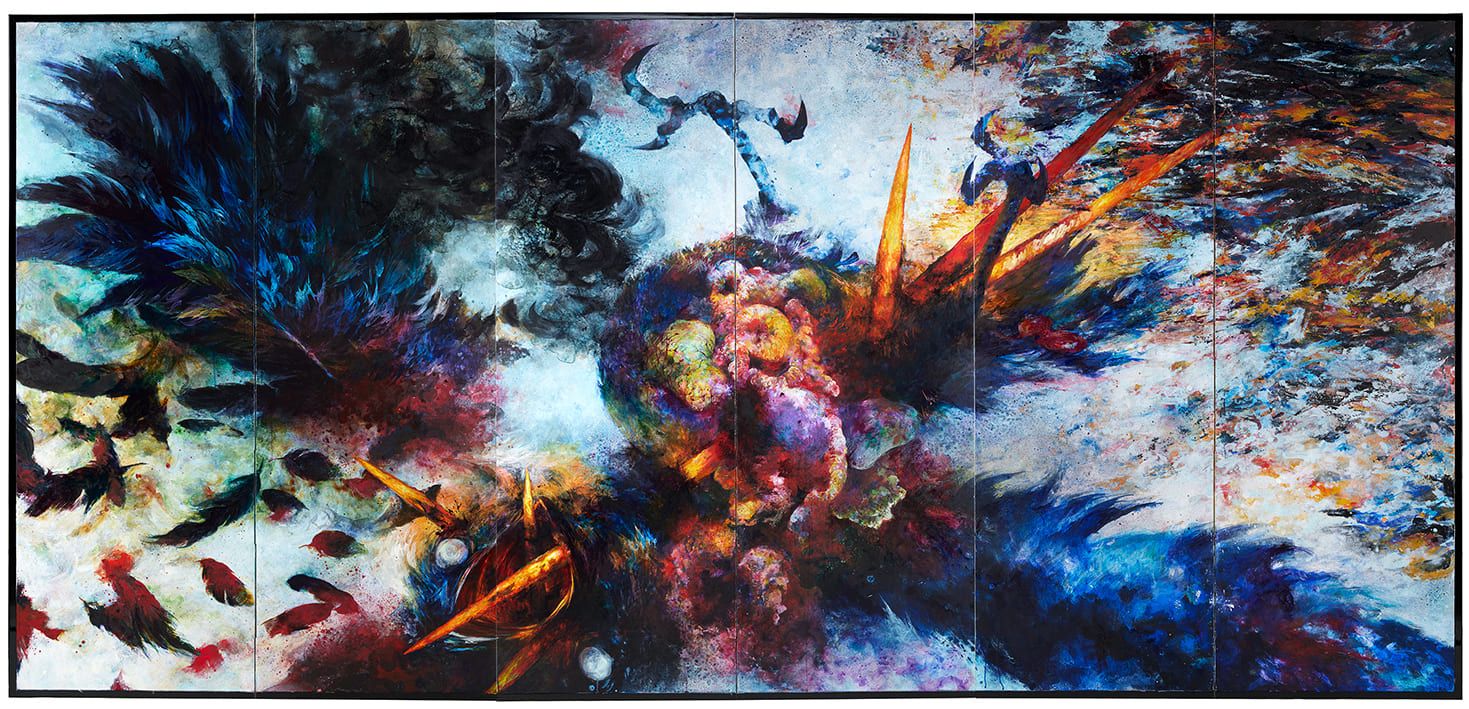 Each of Sisyu's paintings depict one of four types of Buddhist hells reserved for those guilty of theft, sexual misconduct, murder, and deceit. The series, in the form of four byobu folding screens, extends to a total of fifteen metres in length – a vast piece of work. In 2017, Sisyu exhibited "Ombre Lumiere" in Paris, featuring the folding screen Feasting Crow, Feasted Crow, and the bird motif appears in her Hell series too, but in far more ghoulish mode. Representing humanity, it is enveloped in wild flames, combusts in a spray of bloodied feathers, and is penetrated by the plunging sword of a victoriously demonic being. The images are extremely violent, and surge with dramatic movement and colour. Hell Paintings in Japan have been produced for at least a thousand years. They are found in most Buddhist cultures as a tool of propagation, delineating in visual form the variety of gruesome tortures that await those who transgress the precepts.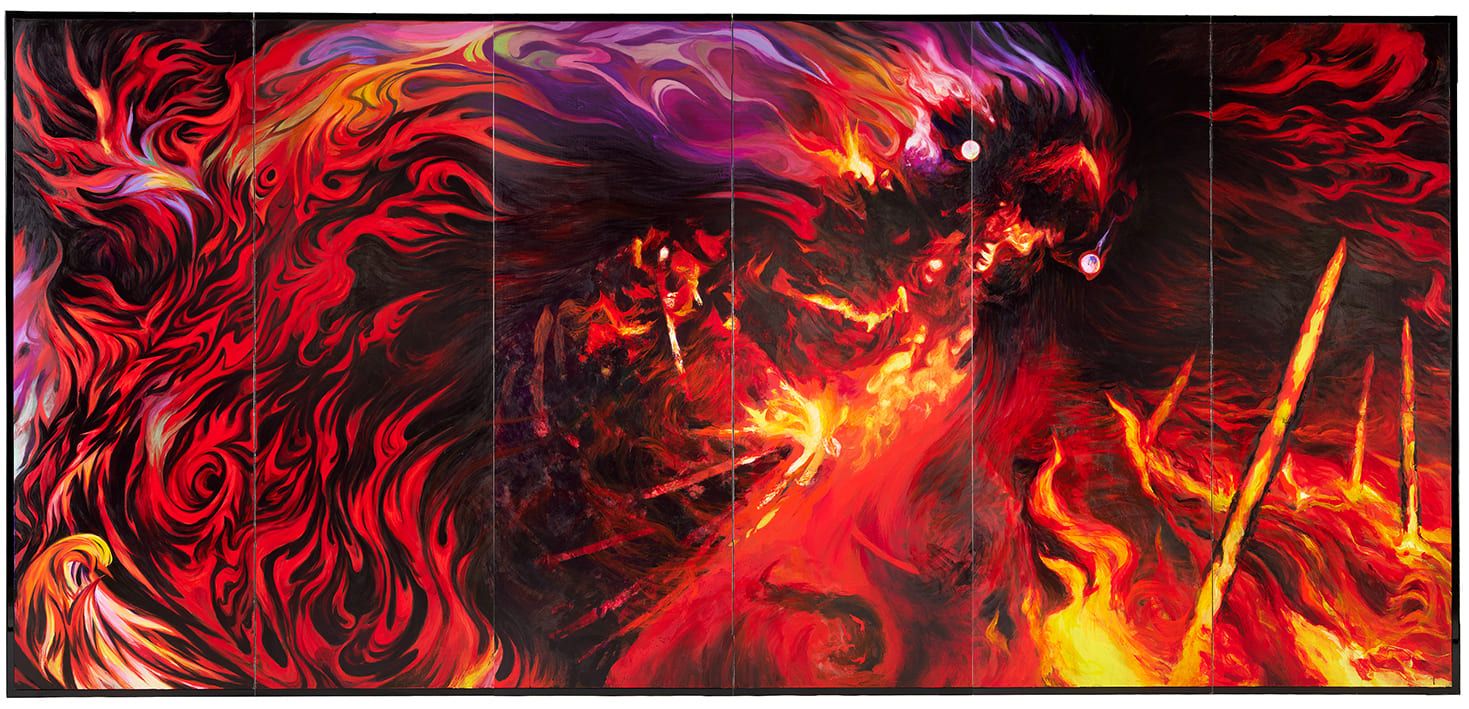 But Buddhist art and its accompanying rituals and prayers have also long been used in Japan in the hope of bringing about healing in the face of illness, including widespread, population-threatening ones such as epidemics. For example, Nara's Yakushiji Temple in Nara (among the earliest of the Buddhist temples in Japan) with its Medicine Buddha icon were made for their healing properties. Sisyu created her series during the COVID-19 pandemic as a response to the contemplation of death that the period and its threat of sickness and death evoked. It is, she muses, precisely because we avert our minds from death that we suffer from anxiety about it. It was during a period similarly marked by profound anxiety and dread that Hell Paintings in Japan first flourished, in the late twelfth century. As didactic tools, Hell Paintings conventionally depicted the various hells as real places where people might be boiled in cauldrons or sawn up by monstrous enforcers of these Buddhist laws. But despite the graphic descriptions of the hells that Sisyu provides to describe her works, she seems to conclude that they can be found nowhere else but within the confusions of the human heart, in the form of hatred, envy, anger, resentment, anxiety, and greed that, acted upon, reproduce themselves eternally. And those older didactic works, while alerting the mind – and eye – to the afterlife, rather than averting it – were never ritually burned. And so her prayer, in offering her art, is to incinerate these inner hells, and liberate the world from its fears. The Buddhist fire ritual not only functions to burn away and purify these destructive psychological states – it also represents, for her, the act of forgiveness, which is the key to extinguishing these states.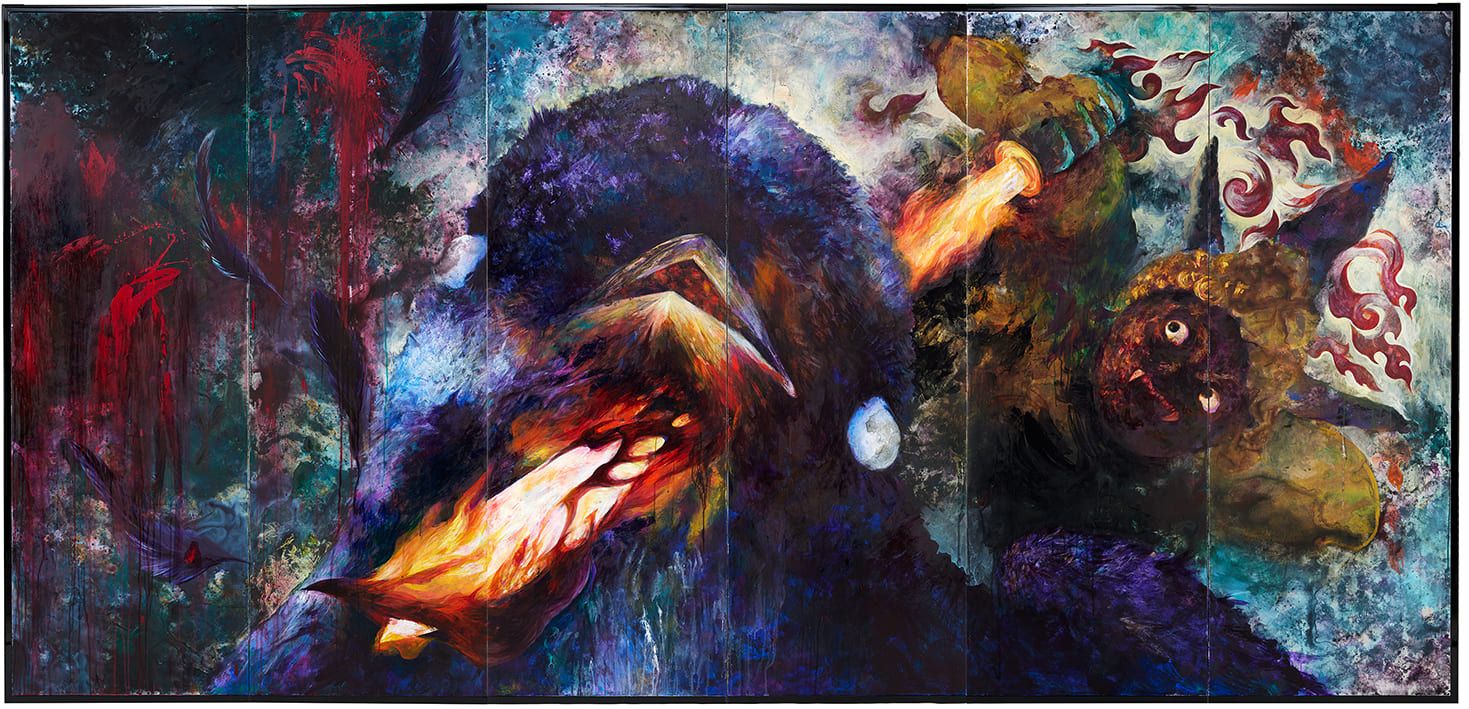 In the goma ritual, wooden sticks (goma-gi) with the prayers of patron-devotees written on them are burned, carrying the prayers to the Buddhist deities (in tantric Buddhism a vast pantheon of deities are worshipped, many of them originating in Vedic traditions). Sisyu is not only burning her paintings as a prayer ritual for widespread healing of the hell in humans' hearts but has also arranged for a vast number of fellow devotees to contribute their own prayers in the form of digital wooden sticks which can be purchased online as NFTs and will be deleted as their paper equivalents burn at the temple during the ritual. After the ritual is completed, a special seal also created by Sisyu will be delivered as NFT art to the patron.
As well as conveying prayers, fire, in tantric Buddhism, is also a purifying agent of not only physical matter but of transgressions – those mental states and resultant acts that create suffering, or, as Sisyu expresses in her art and act, a living hell. One cannot help but find an analogy in the transfer of the material into the digital world that the metaverse of art and NFTs facilitate. As prayer is expected to bring longed-for returns to the world of humanity, as tangible becomes intangible through fire, and the pictorial flames of Sisyu's hell are consumed by real ones, so too material transforms to digital in the new world of the NFT art market. To witness this confluence of the ordinarily divided religious and secular at a site already steeped in the confluence of mountain gods and Buddhist deities promises to be an extraordinary spectacle.
The event (from 16:45-18:00) will also be livestreamed on Sisyu's Instagram (@sisyu8).
All photos of paintings above by Tadahiko Nagata, courtesy of Sisyu Atelier
Promotional Video "Blue Buddha" 
Sisyu's Instagram: @sisyu8
Where: October 21st, 2023, Kinpusen-ji Temple, Yoshinosan 2498, Yoshino, Nara
When:
16:00〜16:30  Event opens in front of the Zao-do (Zao Hall) at Kinpusenji Temple
16:30     Seating
16:45〜17:30 Fire Ritual (Goma)
17:30〜18:00 Viewing of Large Burning of the Hell Paintings
The event (from 16:45-18:00) will also be livestreamed on Sisyu's Instagram (@sisyu8).
Directions: The Yoshinoyama Ropeway (cable) runs from Senbonguchi Station (in front of Kintetsu Yoshino Station) to Yoshinoyama Station (Shimosenbon). Kinpusenji Temple is a ten-minute walk from there.