The Naramachi Mishiru (Seeing and Knowing Naramachi) initiative, launched as a means of showcasing the charms of Japan's traditional townscapes, is halfway through its run till November 12th, and provides what could be a small tour of this charming area of Nara City, which is tucked away from the madding crowds of the centre. With its towering jewels of Buddhist and Shinto culture – Todaiji Temple, Kasuga Taisha Grand Shrine, and Kofukuji Temple, to name but a few of the greats – the area within and around Nara National Park is not to be missed, but Naramachi ("Nara Town"), its outskirts an approximate ten-minute walk from this part of the city, is well worth the visit for some of the subtler layers of Nara's long history. It retains well-conserved eighteenth century machi-ya, narrow but deep merchant houses, as well as buildings with attractive lattice architectural features, many of which now function as art, craft, and clothing shops, inns, cafes, restaurants, and breweries. Naramachi is full of architectural gems of the early urban variety, many of them registered Cultural Properties, and are a delightful contrast to the grand religious buildings elsewhere in Nara, and the newer urban constructions. It is also where one of Japan's great modern novelists, Shiga Naoya (1883-1971) chose to build his residence, which remains today as a memorial, a preserved/restored early Showa period work of architecture, and a functioning seminar house for Nara Gakuen University students. Featured as one site for Naramachi Mishiru week, the house is open almost year-round to the public.
Located between today's centre of Nara City and thickly forested mountains, Naramachi was the main part of what was called the "Outer Capital" when the first imperial capital ruled, in the eighth century, from Nara's Heijokyo Palace. Kasuga Taisha Shrine priests and other officiants and staff who carried out important governmental politico-religious rituals, matsuri-goto (the reader may recognize the term "matsuri" which now exclusively signifies Shinto festivals) resided in Naramachi from the eleventh to the late nineteeth century, giving names to the main thoroughfares of the area and forest they used to reach the Grand Shrine (Kami-no-negi-michi (Priests' Upper Path), Naka-no- negi-michi (Priests' Middle Path) and, predicatably, Shimo-no-negi-michi. Naramachi was, therefore, long known as the town of shrine personnel. The well-trodden routes are the back-story to their destination, a shrine that was to become, by the early medieval period (thirteenth century) the most powerful in Japan, yet the footsteps that marked them were not only of religious practitioners, but also those of a later literary tradition. The Priests' Lower Path is known affectionately as "the whispering path" (sasayaki no komichi), and is today also known as the location of the residence of Shiga Naoya whose old house served between 1929 and 1938 as a family home, a place to write, and a salon for the literary greats of the time. The house (and garden) is in a neighbourhood of Naramachi called Takabatake, which borders Kasuga Primeval Forest.
Shiga's house was designed in the traditional Sukiya style with some (at the time) modern western elements, which would have marked Shiga out as just as progressive in his taste as he was in literary style and subject matter. In literary terms these were evident in the novel he wrote here at a western-style desk and on a velvet chair looking out upon an exquisite garden: the acclaimed A Dark Night's Passing, which has been counted as one of the great works produced by the modernist Shirakaba ("White Birch") school of literature.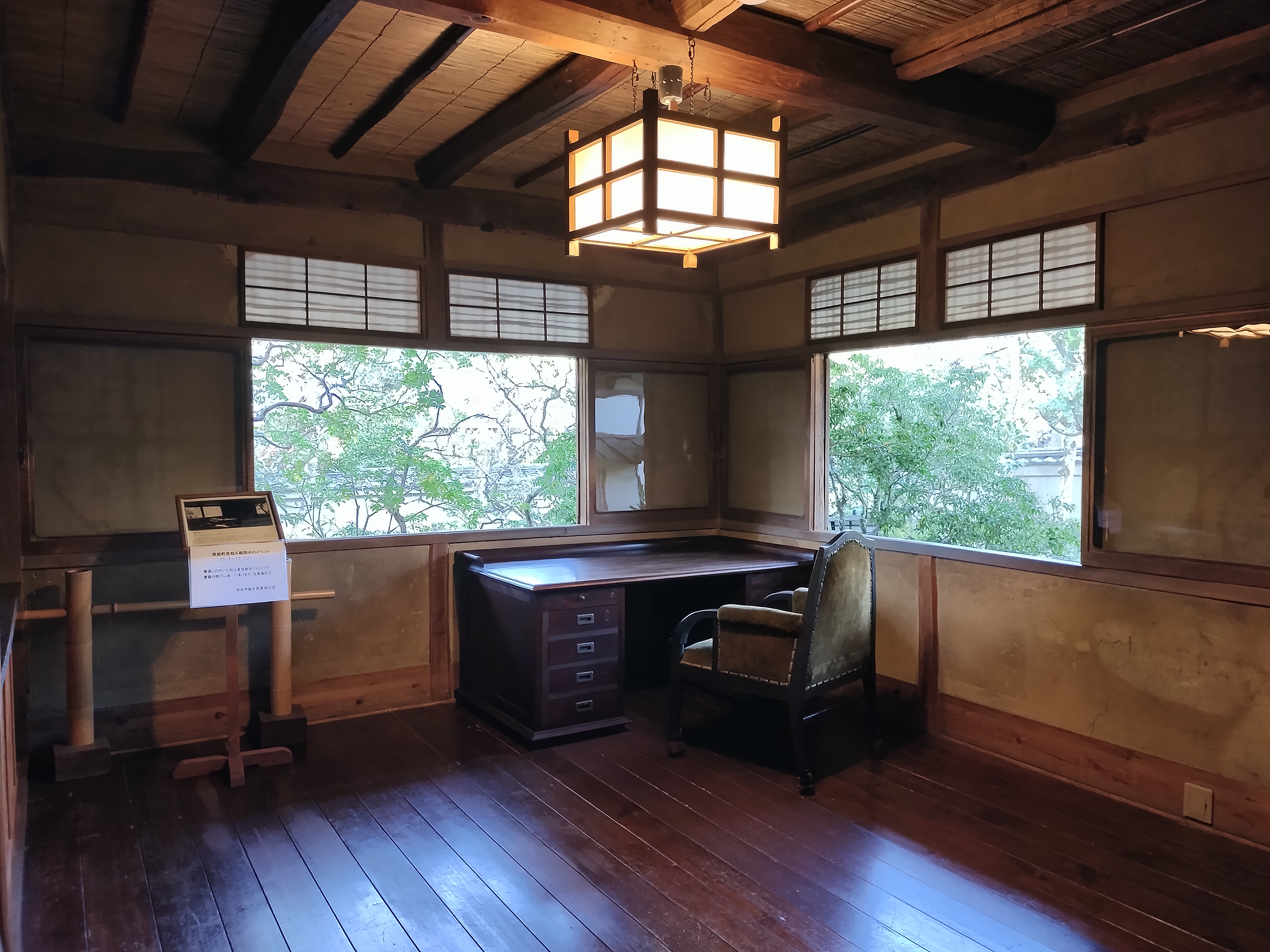 The older Sukiya style, which dates back to the early sixteenth century, was developed for tea houses, and is characterized by rusticity, exposed natural materials such as wood and stone (usually clay), clean lines and simplicity. This is most evident in the exterior, in the tearoom itself (though even here modernist ideas are found), as well as the tatami-floored bedrooms, while the dining room exhibits a mixture with its white ceilings, rare red-pine beams, large leather sofas, and a large western dining table that would have accommodated the many guests that frequently joined the Shiga family for dinner. Currently, in the dining room, a big-screen (but unobtrusive) video of a scholarly conference headed by his grandson on Shiga's life and work, which was filmed in the room itself, is played on a loop.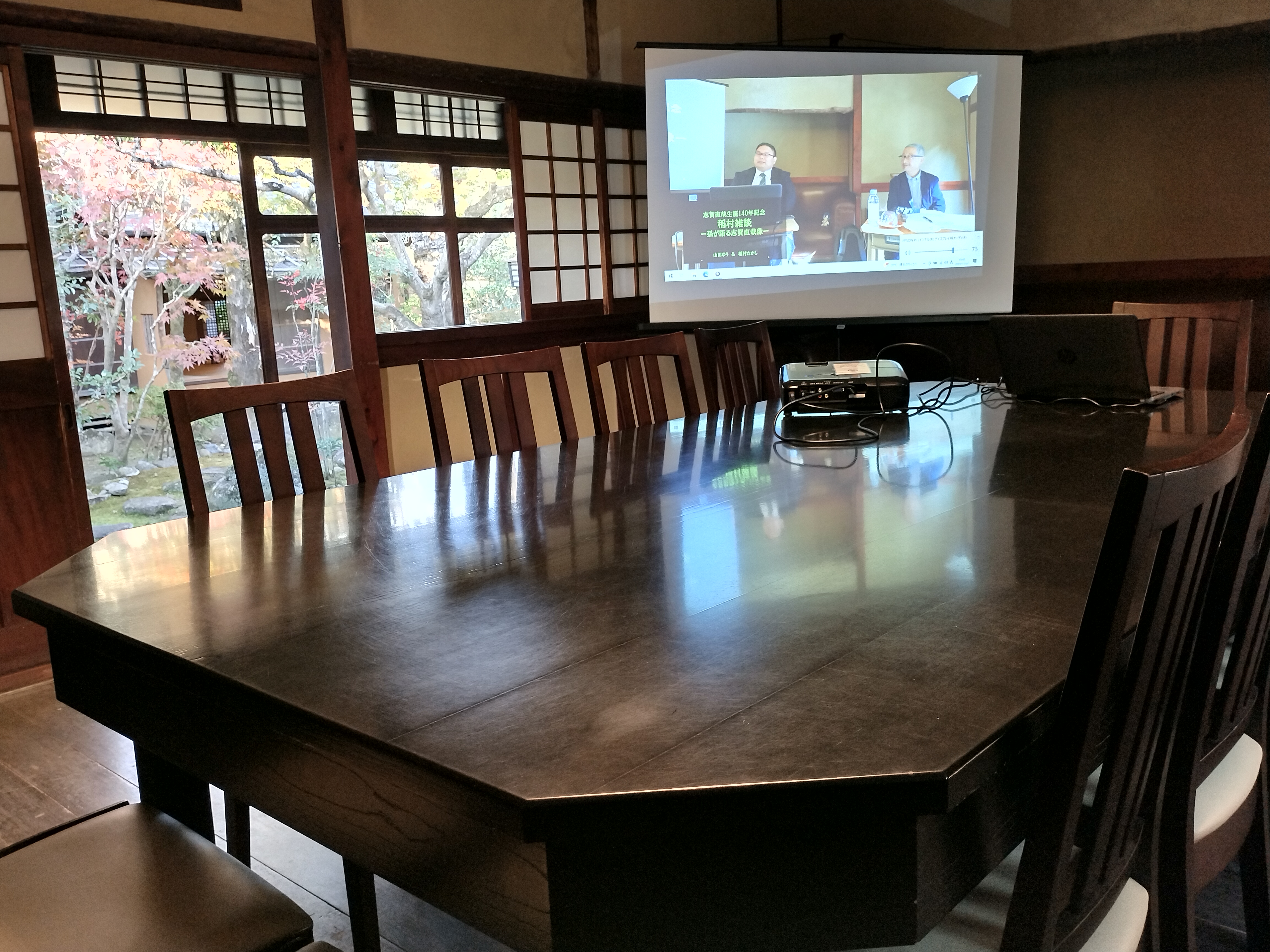 A sun-room, just off the dining room, once functioned as a salon space for Shiga and his literary companions and is now available to guests, again with a mixture of original and reconstructed furniture.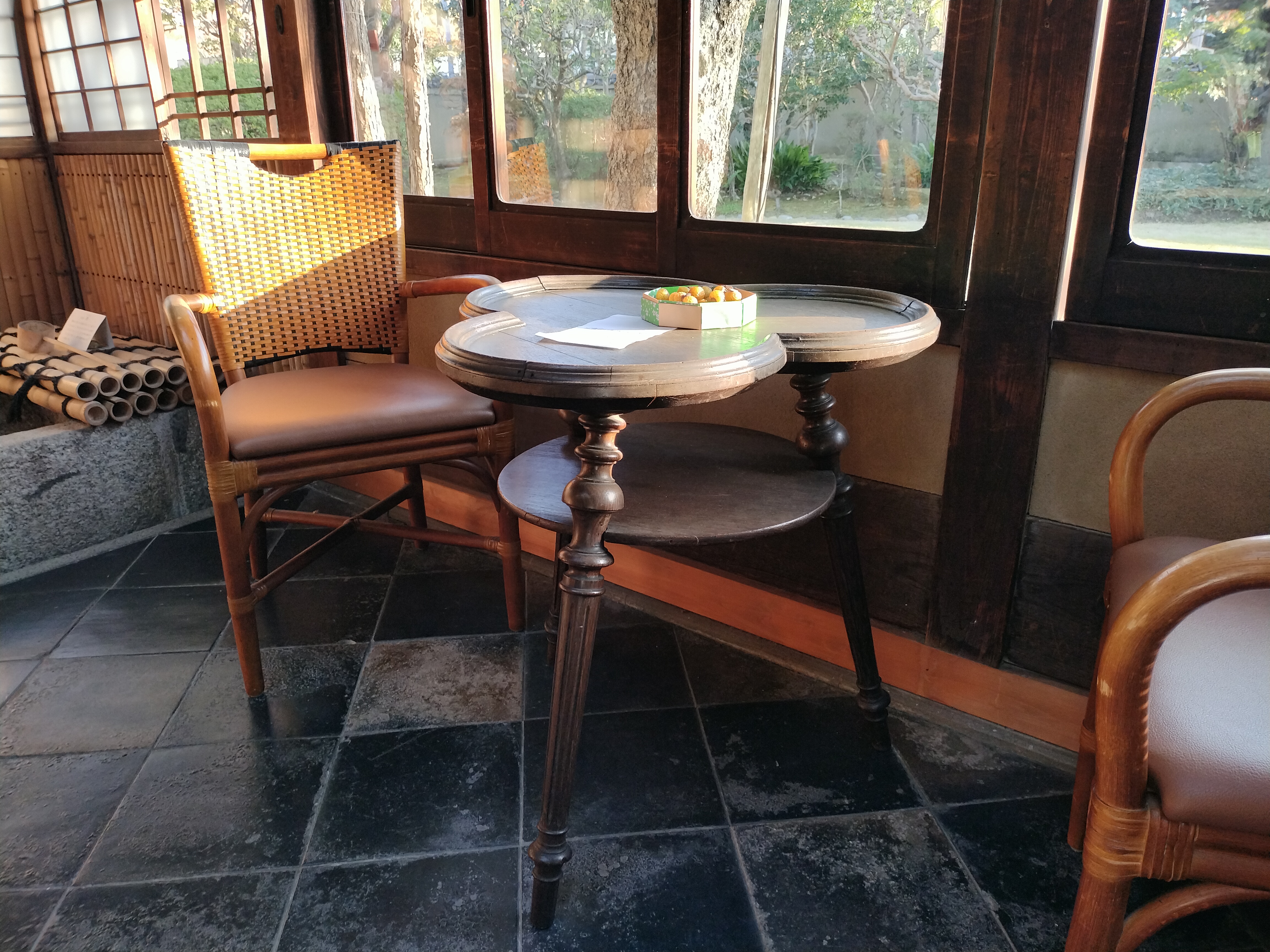 Enthusiasts of Japanese bath culture and design will find in the bathroom a good example of a reconstructed square, wooden, deep Goemon-style bath.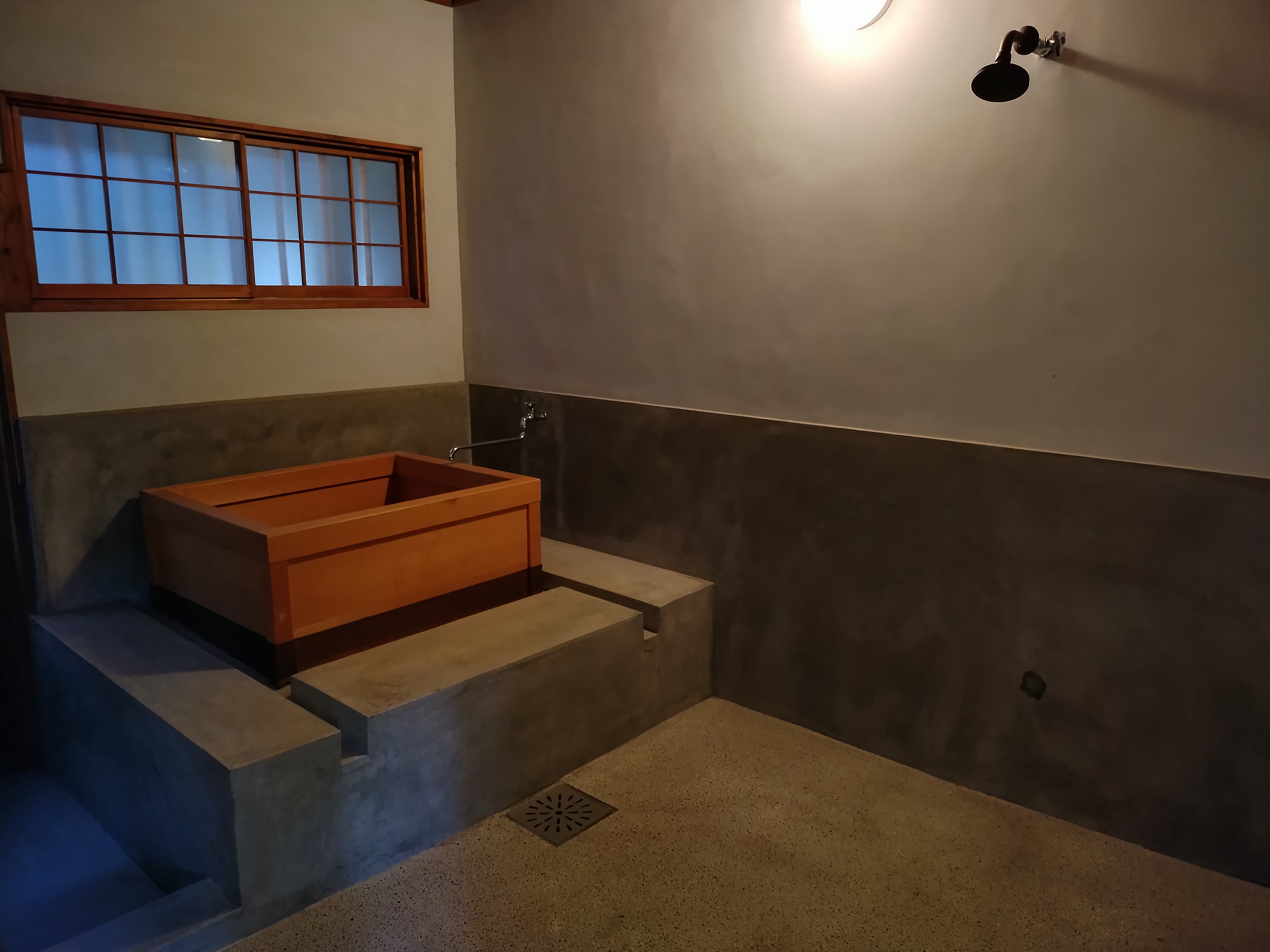 The tearoom was designed by the carpenter who built the whole of Shiga's house, but who was also associated with the Urasenke school of tea ceremony. This was Shimojima Matsunosuke, who was also responsible, in 1929, for the studio of a writer contemporary to Shiga (likewise of the modernist Shirakaba school), Ton Satomi. Shiga's tearoom was, it is said, intended to express the spirit of this literary movement.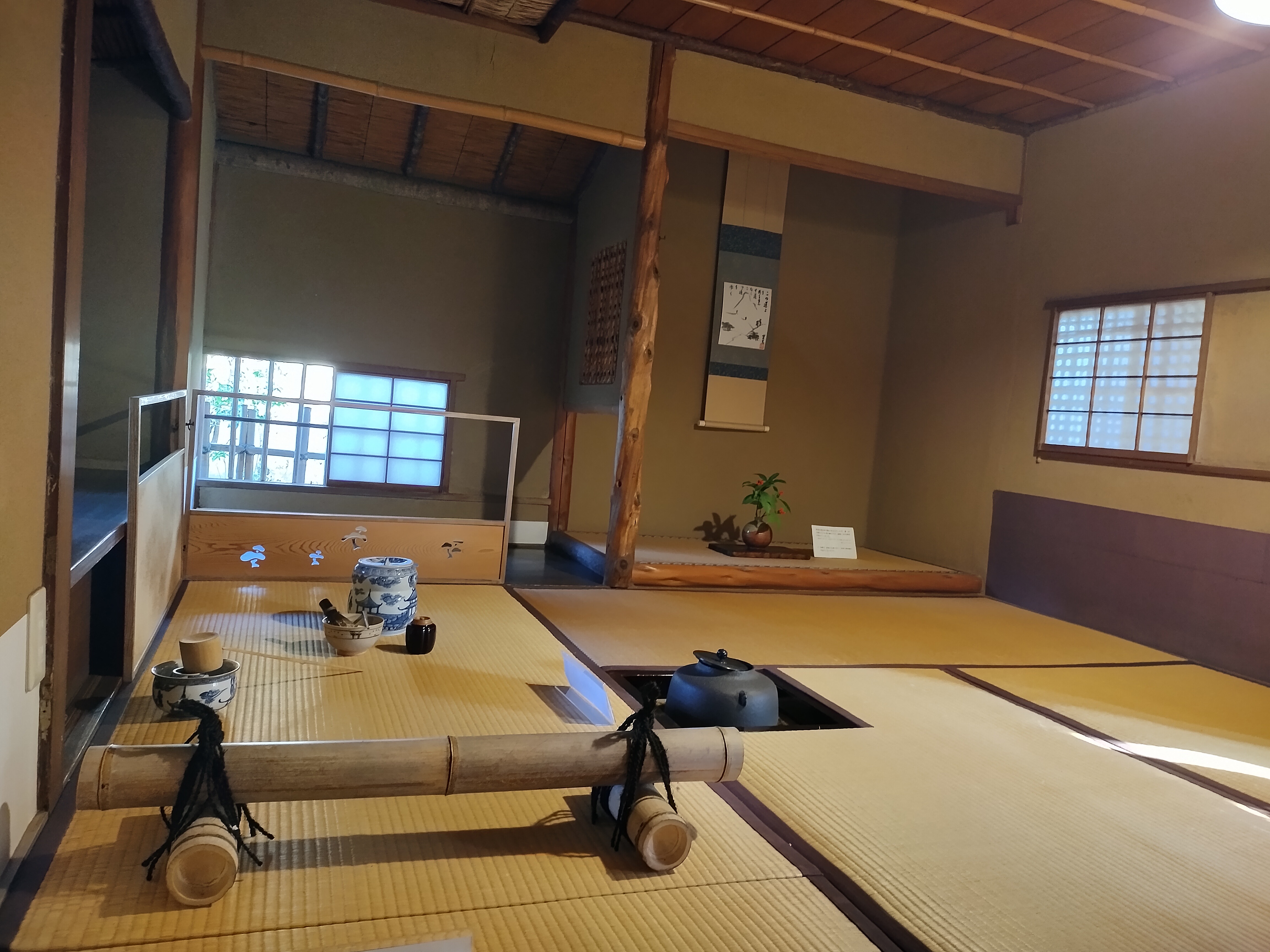 But bamboo, reed, paper-screen sliding doors (shoji), wood, and light predominate in the design of the vast home, and the views of the gardens from various interior vantage points capture a particular Japanese aesthetic that included scenery– even distant scenery– as an extension of a residence (or a temple or shrine). From Shiga's home one can see Mt. Kasuga, Mt. Wakakusa, and Mt. Takamado, all of which have long been traditional literary muses.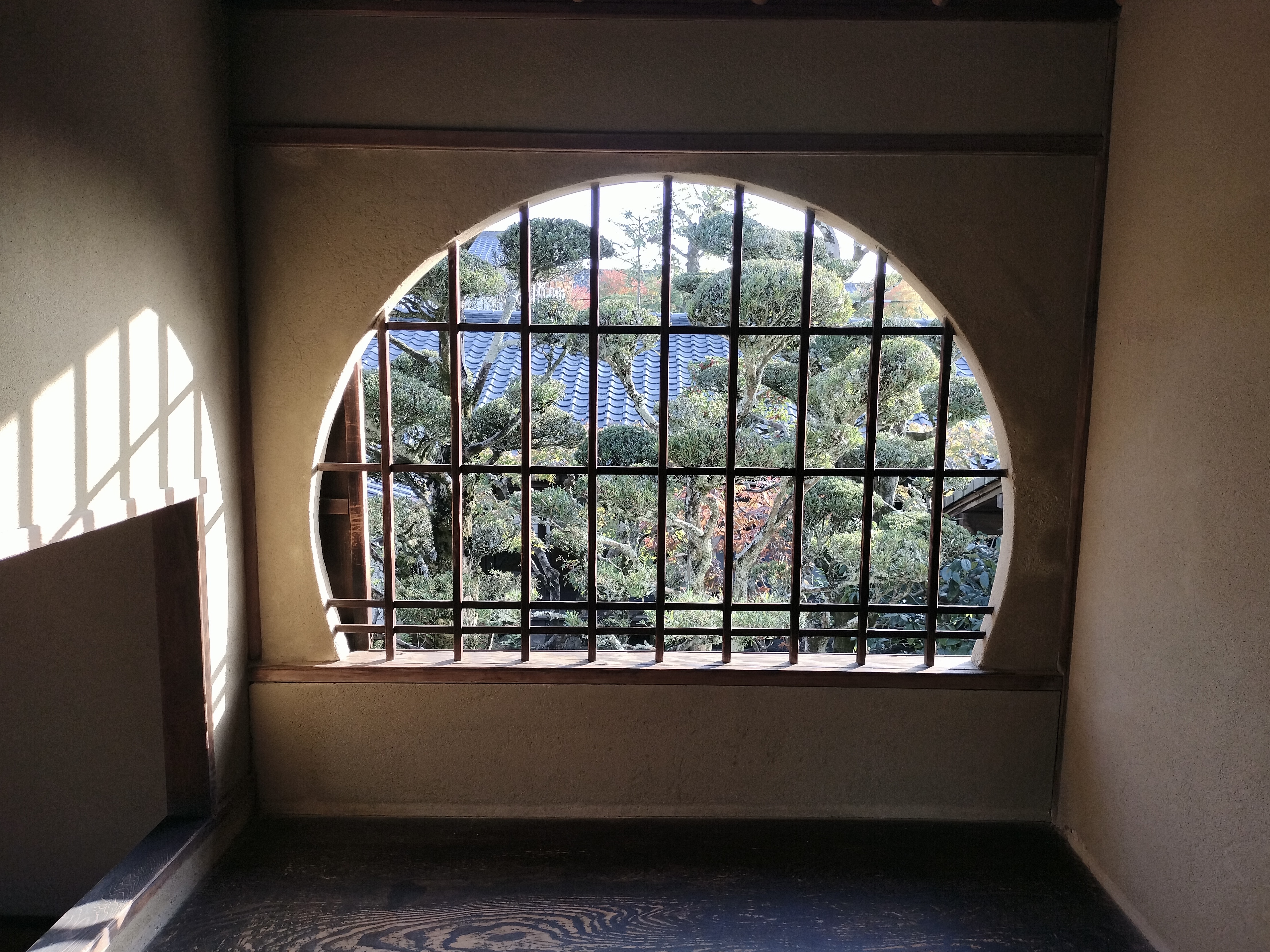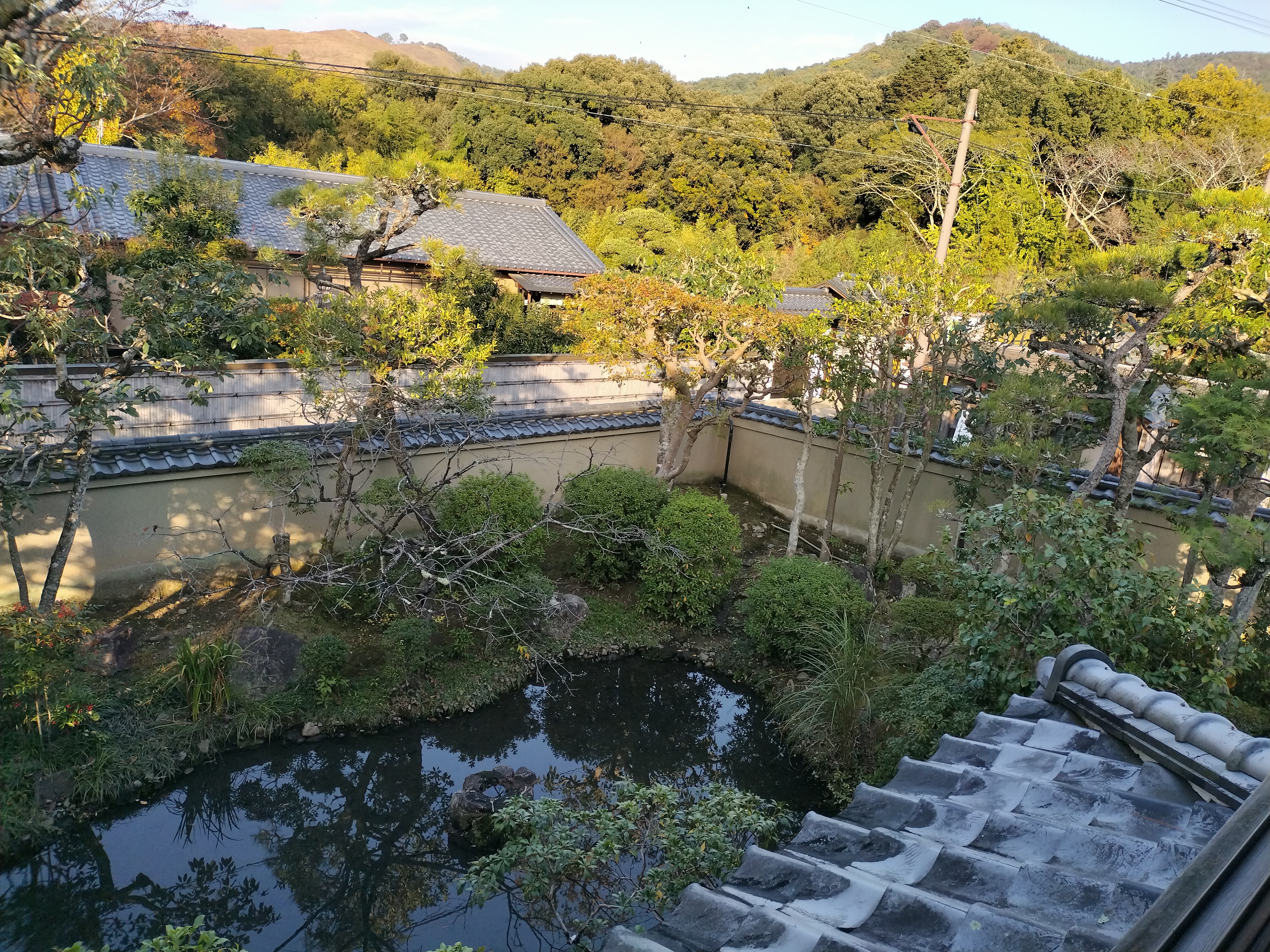 One can enjoy views both from within and outside as an experience of the highly refined rustic nature of the gardens themselves. Shiga's is an excellent expression of the mixture of the tamed and the wild, the sense and appearance of natural life that is brought forth through its training and cultivation that is another characteristic of a certain type of Japanese aesthetic.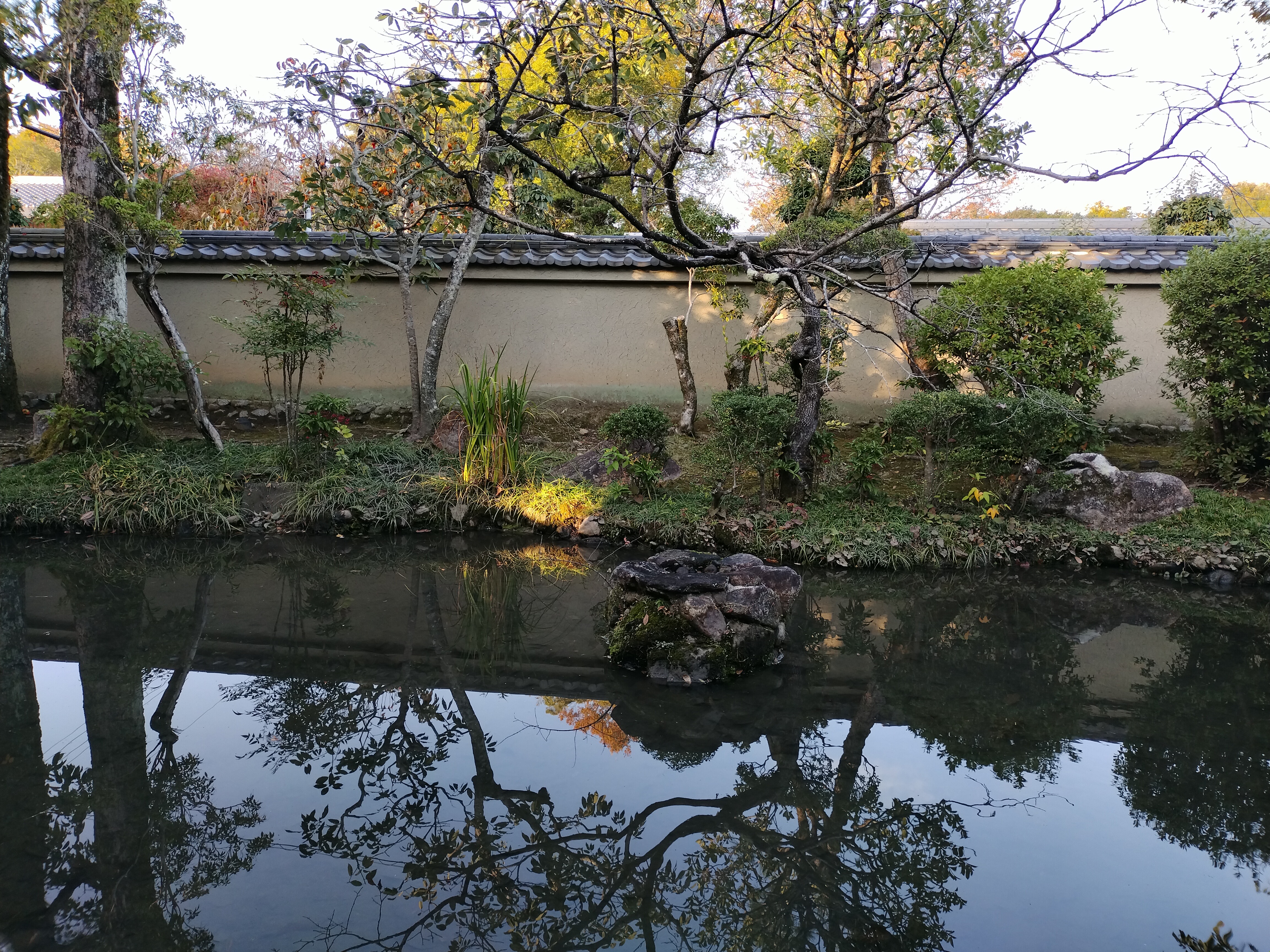 During this season, on the cusp of an unusually late autumn, the jagged branches of the persimmon trees are almost raw, but the maple leaves are just on the turn, promising a profusion of ambers, scarlets, and burning reds. The house and garden are a beautiful expression of tradition and modern – as they were understood by Japanese writers and architects of the Taisho and Showa periods – and are embedded in a wide Nara landscape that itself was not only a source of power for the priests that once also lived in this neighbourhood, but also a literary inspiration for ancient and modern writers of the Japanese canon.
The Old Residence of Shiga Naoya: 1237-2 Takabatake-cho, Nara City
Directions: 22 minutes walk from Sarusawa Pond, or 10 minutes by city loop bus (clockwise) from JR or Kintetsu Nara Stations: alight at Wariishi-cho bus stop and the house is a 5 minute walk from here (with signposts along the way).
Admission: 9:30 a.m. – 5:30 p.m. (December – February until 4:30 p.m).
Last admission is 30 minutes before closing.
Adults and high school students: 350 yen
Junior high school students: 200 yen
Elementary school children: 100 yen
English information is available at the house.