Fuku-in temple is one of the temples of Nara that represents the very earliest beginnings of Buddhism in Japan, and it attracts devotees of Buddhist sculpture for its main icon, a medieval eight-armed and three-eyed bodhisattva Kannon (Japan's Avalokiteśvara), and its Uga-Benzaiten statue, a Hindu-Shinto goddess with a serpentine crown. Both statues, which are truly exquisite, are extremely rare examples of their type: few exist of either, and the latter is often kept largely secret. With the exception of special viewing sessions during the spring and autumn, Fuku-in's is also hidden from view. These two unusual icons worshipped at a shared site encapsulate Japan's long practice of syncretism, which gave these islands' pre-Buddhist gods (kami) and the imported Buddhas a place in each other's worlds – an endeavour that allowed for a largely harmonious co-existence to be maintained for centuries.
Fuku-in temple is a good site at which to observe and experience this, especially in its Nara-specific manifestations, because it is today a small-scale temple whose size belies an impressive history that wraps it into the network of beliefs that formed Japan's religious foundations. Its origins go back to the eighth century, well before its two now famous statues were installed and worshipped. A small statue of a priest, Ganjin, that sits to the side of the great bodhisattva, and a "soul consolation mound" devoted to a princess outside in the grounds of the temple tell two oddly-linked stories of the century in which the leaders of Japan, embroiled in political intrigues and turmoil, established themselves in their new capital in Nara and consolidated rule there from 710 to 794.
Fuku-in temporarily housed this priest, a Buddhist precepts master who arrived from China in 753 to establish the system of precepts and vows among the communities of monks and nuns. In 754 he ordained Japan's first Buddhist ruler, (the retired) Emperor Shomu at Shomu's enormous religio-political project, Todaiji temple. It is likely that among the viewers of Shomu's ordination was his daughter, Princess Inoue, and it is her restless heart that the mound at Fuku-in was designated to soothe. Once consort-empress, then deposed, Princess Inoue had been accused of sorcery for political gain and (it is assumed) was assassinated along with her son. That she was given a place at Fuku-in to be ritually placated and consoled suggests she had had a residence in the area. The two contemporaries – a male priest who sought to impose the rules and a female royal at the highest levels of political power who sought, perhaps, to break them – make an interesting and unexpected pair enshrined together at this site, as thought-provoking a co-habitation as that of the gods and the buddhas.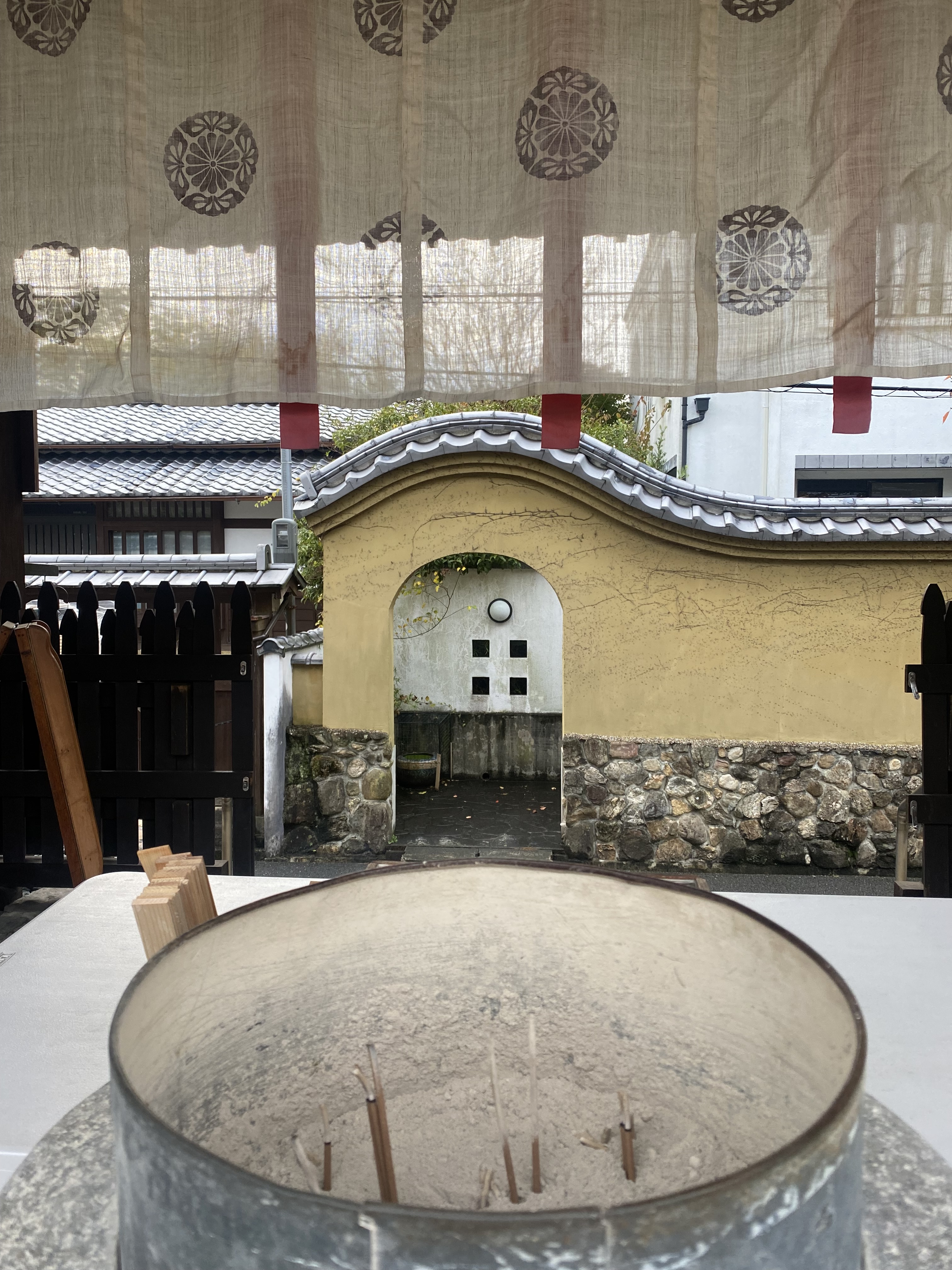 It is said that half a century after Ganjin's residency the charismatic founder of esoteric Buddhism, Kukai, also stayed here, and since the thirteenth century Fuku-in has been a temple of the Shingon-Vinaya (or Shingon-Risshu) school that integrated the revived precepts into Kukai's esoteric teachings and practices. The mixture of beliefs and their development at Fuku-in was already rich and complex, but the worship of the Shinto gods and goddesses was and still is quite active too, as is evident in its location and icons.
Fuku-in was originally sited within Kasuga Taisha Grand Shrine's then vast precincts. One can still walk directly from Fuku-in to the shrine along a path used by shrine priests to commute from their residences, which were closer to the temple. Its main Buddhist icon, the rarely-displayed eight-armed Kannon bodhisattva, known as Fukukensaku Kannon (Amoghapāśa, a tantric form of Kannon) is considered to be a manifest form of the Kasuga's principle god. Deer skin – of gleaming gold-leaf covered wood – is draped over its shoulders, making the link between god and bodhisattva as visually persuasive as the doctrine of syncretism might have theologically been, for the god arrived at Kasuga on his vehicle, a white deer – the sacred ancestor of the thousands of deer that roam the shrine grounds and Nara Park today. This is one of the three Fukukensaku Kannon statues in Nara that are especially revered, and highlighted as of particular artistic value. Fuku-in's is of the thirteenth century, the age of the great sculpture ateliers of the Kei School, and displays many of the distinctive features for which that school's masters were famed, but it may have replaced a much earlier statue enshrined in an octagonal hall. The other two were enshrined at (the aforementioned) Todaiji temple in the 740s and at Kofukuji temple's octagonal hall, which has close connections to Kasuga Grand Shrine. Although not all these temples are predominantly esoteric (and Fuku-in is itself a scholastic mix), this form of the bodhisattva was. A striking indication of this in the otherwise characteristically gentle aspect of the bodhisattva is the opened vertical third-eye, signifying enlightenment, and the similarly symbolic opened lotus held in one hand. Rather, the creation of all these statues was likely connected to the fondness of the rulers and political players in the Nara arena for Kasuga Shrine and the affiliations they held with it, as well as the links they had with Emperor Shomu who had ordered all provincial temples to enshrine a bodhisattva of this type.
Fuku-in also served the geisha entertainers of Nara, and the now-secret Uga-Benzaiten was solicited for her particular empowerment of artists and musicians. She still is today, in shrines all over Japan, even while often – but not always – hidden from view. She also attends to the "tying" of fate between lovers (en-musubi). Benzaiten is a Japanese iteration of an Indian river goddess, but this particular icon fuses the female deity with Uga, a snake god with the face of an elderly man, and is uniquely Japanese, deeply esoteric, and thought to be extremely powerful. Few exist, fewer are available to the public. Fuku-in's statue dates from the Muromachi period (around the fifteenth century), so its rarity, age, and – needless to say – intriguing appearance really make this a work of religious art that is well worth the visit during the periods when its cabinet latch is released.
Fuku-in drew not only women in the entertainment industry, and people in search of marital partnership, but also functioned as a "Kake-komi dera" – a temple sanctuary for women (in times when divorce could be a difficult procedure for women to initiate) – and sometimes these roles coincided. In the 1930s, Teruha ("Shining Leaf"), a geisha, actress, international traveler, and bar-owner, whose dramatic and often difficult life naturally attracted much interest, sought sanctuary from a discordant marriage here before taking a different set of vows and becoming a Buddhist nun with the name Chisho Takaoka. Still today Fuku-in provides blessings for finding new partnership and for harmonious marriage – as well as for harmonious separation: a deity for the "untying" of vows is enshrined there too, side-by-side with the god of their binding, in peaceful co-existence.
Fuku-in Temple is open daily from 9 to 5, and the periods of special icon viewing are from early November and early May for 2-week periods.
Access: Takabatake-cho 1365, Nara-city. Located near to Shin-Yakushi-ji temple. 25 minutes on foot from both Kintetsu Nara station and JR Nara station. The nearest bus stop is at Wariishi-cho. From here , a 10 minute walk heading 500m east in the direction of Shin-Yakushi-ji Temple. Fuku-in can also be reached by walking south from Kasuga Taisha Grand Shrine along the "Negi-michi"(ancient priest's road) in the forest.
With thanks to Fuku-in Temple. See website (with English) here: www.fuku-in.com